Satellite Orbits and Uses NIS
Page
4
Slide 31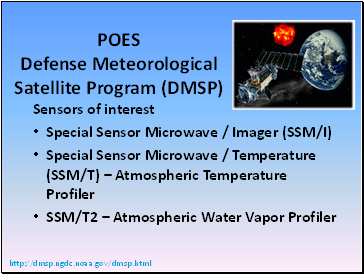 Poes
Defense Meteorological Satellite Program (DMSP)
Sensors of interest
Special Sensor Microwave / Imager (SSM/I)
Special Sensor Microwave / Temperature (SSM/T) – Atmospheric Temperature Profiler
SSM/T2 – Atmospheric Water Vapor Profiler
http://dmsp.ngdc.noaa.gov/dmsp.html
Slide 32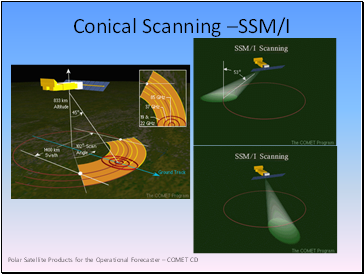 Conical Scanning –SSM/I
Polar Satellite Products for the Operational Forecaster – COMET CD
Slide 33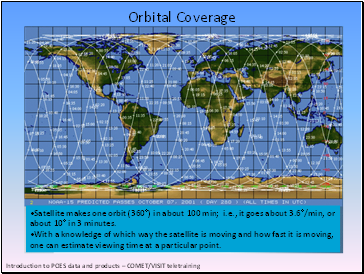 Orbital Coverage
Introduction to POES data and products – COMET/VISIT teletraining
Satellite makes one orbit (360°) in about 100 min; i.e., it goes about 3.6°/min, or about 10° in 3 minutes.
With a knowledge of which way the satellite is moving and how fast it is moving, one can estimate viewing time at a particular point.
Slide 34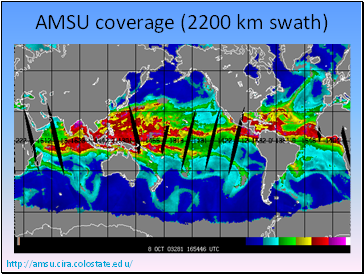 AMSU coverage (2200 km swath)
http://amsu.cira.colostate.edu/
Slide 35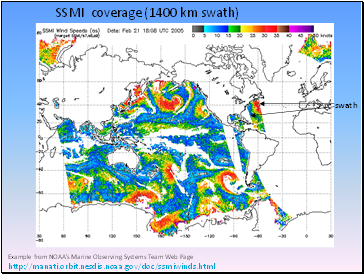 SSMI coverage (1400 km swath)
Example from NOAA's Marine Observing Systems Team Web Page
http://manati.orbit.nesdis.noaa.gov/doc/ssmiwinds.html
swath
Slide 36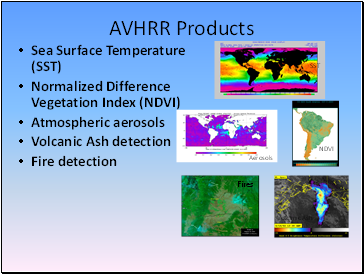 AVHRR Products
Sea Surface Temperature (SST)
Normalized Difference Vegetation Index (NDVI)
Atmospheric aerosols
Volcanic Ash detection
Fire detection
SST
NDVI
Aerosols
Fires
Volcanic Ash
Slide 37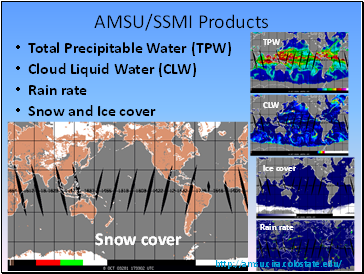 AMSU/SSMI Products
Total Precipitable Water (TPW)
Cloud Liquid Water (CLW)
Rain rate
Snow and Ice cover
TPW
CLW
Rain rate
Snow cover
Ice cover
http://amsu.cira.colostate.edu/
Slide 38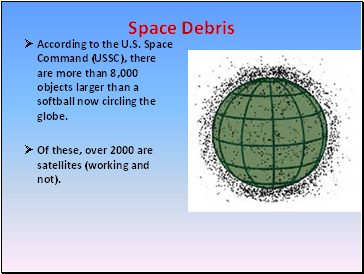 Space Debris
According to the U.S. Space Command (USSC), there are more than 8,000 objects larger than a softball now circling the globe.
Of these, over 2000 are satellites (working and not).
Slide 39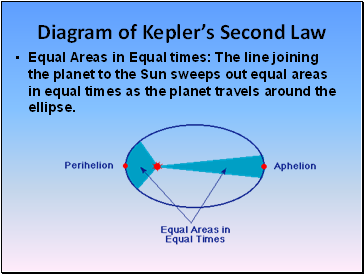 Diagram of Kepler's Second Law
Equal Areas in Equal times: The line joining the planet to the Sun sweeps out equal areas in equal times as the planet travels around the ellipse.
Slide 40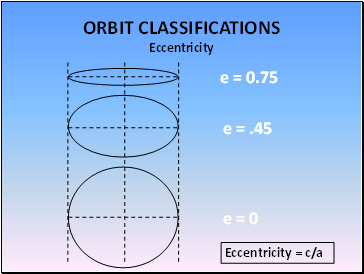 ORBIT CLASSIFICATIONS Eccentricity
Eccentricity = c/a
Slide 41