The Microscope
Page
1
Slide 1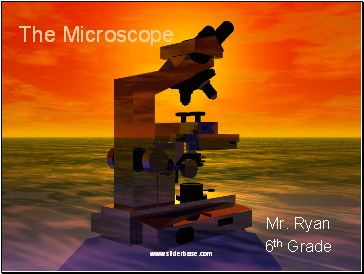 The Microscope
Mr. Ryan
6th Grade
Slide 2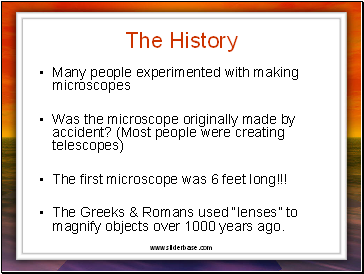 The History
Many people experimented with making microscopes
Was the microscope originally made by accident? (Most people were creating telescopes)
The first microscope was 6 feet long!!!
The Greeks & Romans used "lenses" to magnify objects over 1000 years ago.
Slide 3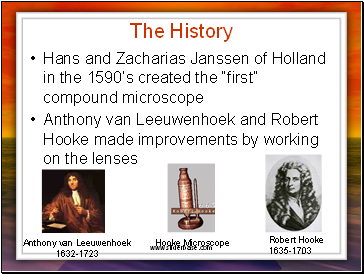 The History
Hans and Zacharias Janssen of Holland in the 1590's created the "first" compound microscope
Anthony van Leeuwenhoek and Robert Hooke made improvements by working on the lenses
Anthony van Leeuwenhoek
1632-1723
Robert Hooke
1635-1703
Hooke Microscope
Slide 4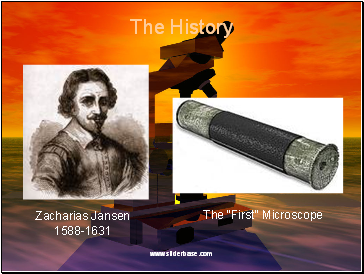 The History
Zacharias Jansen
1588-1631
The "First" Microscope
Slide 5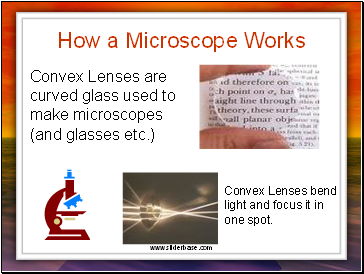 How a Microscope Works
Convex Lenses are
curved glass used to make microscopes
(and glasses etc.)
Convex Lenses bend
light and focus it in
one spot.
Slide 6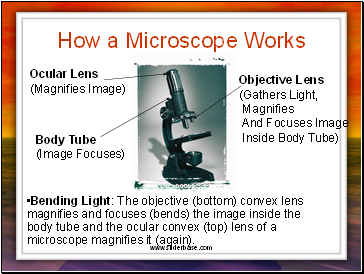 How a Microscope Works
Ocular Lens
(Magnifies Image)
Objective Lens
(Gathers Light,
Magnifies
And Focuses Image
Inside Body Tube)
Body Tube
(Image Focuses)
Bending Light: The objective (bottom) convex lens magnifies and focuses (bends) the image inside the body tube and the ocular convex (top) lens of a microscope magnifies it (again).
Slide 7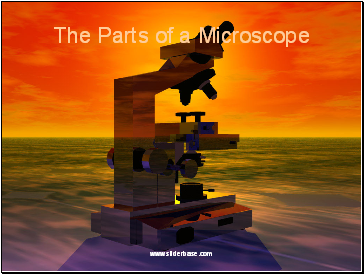 The Parts of a Microscope
Slide 8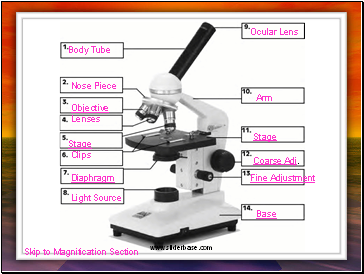 Body Tube
Nose Piece
Objective
Lenses
Stage
Clips
Diaphragm
Light Source
Ocular Lens
Arm
Stage
Coarse Adj.
Fine Adjustment
Base
Skip to Magnification Section
Slide 9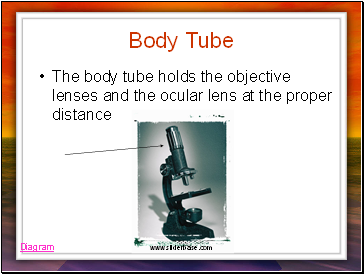 Body Tube
The body tube holds the objective lenses and the ocular lens at the proper distance
Diagram
Slide 10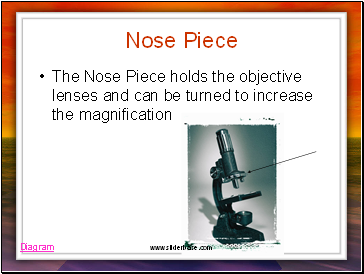 Nose Piece
The Nose Piece holds the objective lenses and can be turned to increase the magnification
Diagram
Slide 11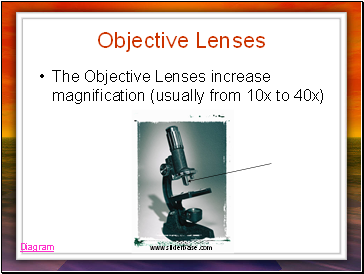 Objective Lenses
The Objective Lenses increase magnification (usually from 10x to 40x)