The Microscope
Page
2
Diagram
Slide 12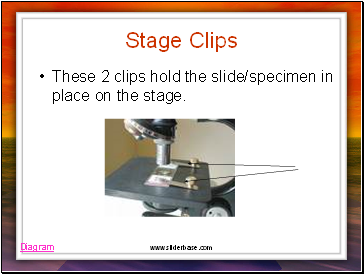 Stage Clips
These 2 clips hold the slide/specimen in place on the stage.
Diagram
Slide 13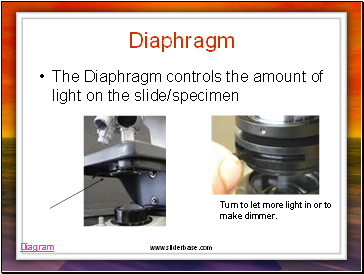 Diaphragm
The Diaphragm controls the amount of light on the slide/specimen
Turn to let more light in or to
make dimmer.
Diagram
Slide 14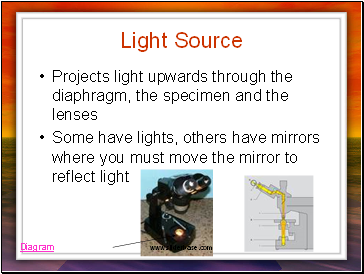 Light Source
Projects light upwards through the diaphragm, the specimen and the lenses
Some have lights, others have mirrors where you must move the mirror to reflect light
Diagram
Slide 15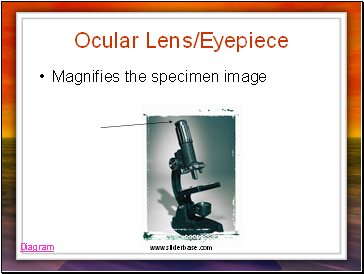 Ocular Lens/Eyepiece
Magnifies the specimen image
Diagram
Slide 16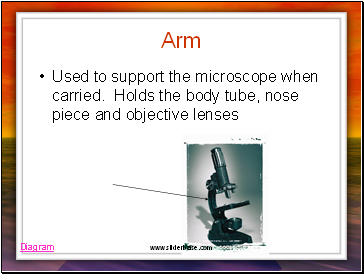 Arm
Used to support the microscope when carried. Holds the body tube, nose piece and objective lenses
Diagram
Slide 17
Stage
Supports the slide/specimen
Diagram
Slide 18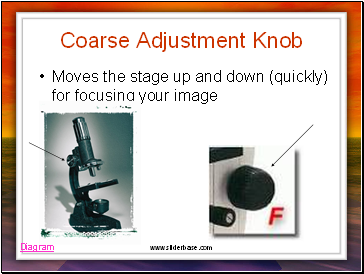 Coarse Adjustment Knob
Moves the stage up and down (quickly) for focusing your image
Diagram
Slide 19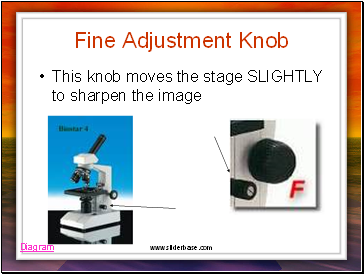 Fine Adjustment Knob
This knob moves the stage SLIGHTLY to sharpen the image
Diagram
Slide 20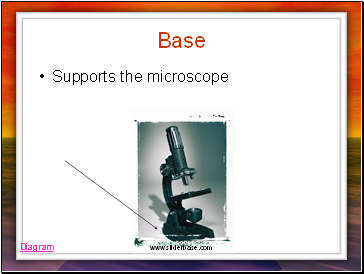 Base
Supports the microscope
Diagram
Slide 21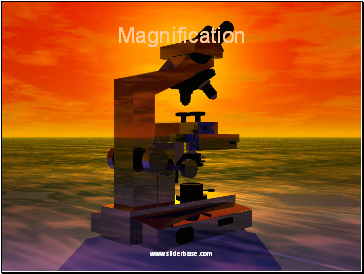 Magnification
Slide 22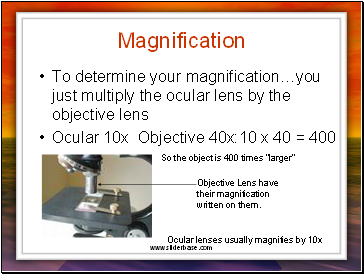 Magnification
To determine your magnification…you just multiply the ocular lens by the objective lens
Ocular 10x Objective 40x:10 x 40 = 400
Objective Lens have
their magnification
written on them.
Ocular lenses usually magnifies by 10x
So the object is 400 times "larger"
Slide 23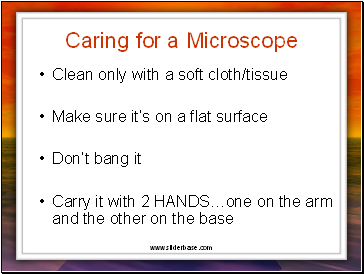 Caring for a Microscope
Clean only with a soft cloth/tissue
Make sure it's on a flat surface
Don't bang it
Carry it with 2 HANDS…one on the arm and the other on the base
Slide 24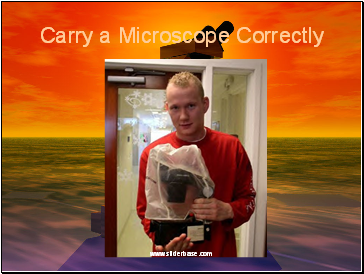 Carry a Microscope Correctly
Slide 25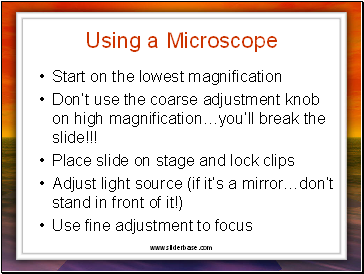 Using a Microscope
Start on the lowest magnification