Genetic Crosses
Page
1
Slide 1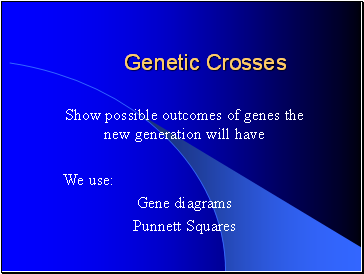 Genetic Crosses
Show possible outcomes of genes the new generation will have
We use:
Gene diagrams
Punnett Squares
Slide 2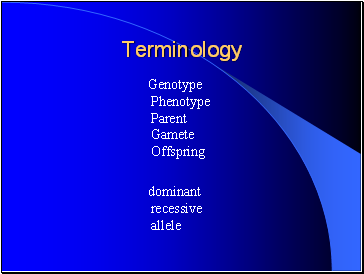 Terminology
Genotype Phenotype Parent Gamete Offspring
dominant recessive allele
Slide 3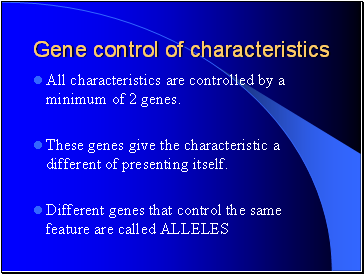 Gene control of characteristics
All characteristics are controlled by a minimum of 2 genes.
These genes give the characteristic a different of presenting itself.
Different genes that control the same feature are called ALLELES
Slide 4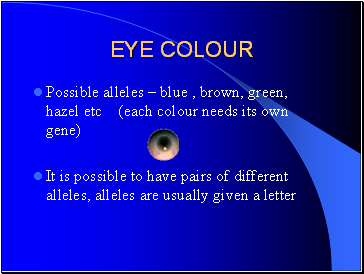 Eye Colour
Possible alleles – blue , brown, green, hazel etc (each colour needs its own gene)
It is possible to have pairs of different alleles, alleles are usually given a letter
Slide 5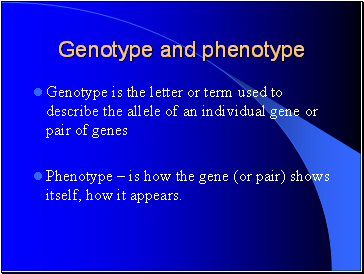 Genotype and phenotype
Genotype is the letter or term used to describe the allele of an individual gene or pair of genes
Phenotype – is how the gene (or pair) shows itself, how it appears.
Slide 6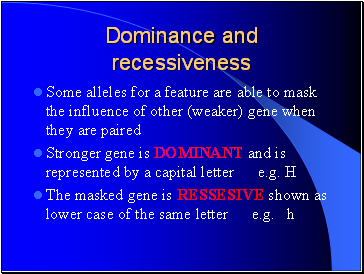 Dominance and recessiveness
Some alleles for a feature are able to mask the influence of other (weaker) gene when they are paired
Stronger gene is DOMINANT and is represented by a capital letter e.g. H
The masked gene is RESSESIVE shown as lower case of the same letter e.g. h
Slide 7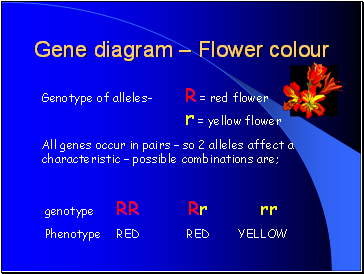 Gene diagram – Flower colour
Genotype of alleles- R = red flower r = yellow flower
All genes occur in pairs – so 2 alleles affect a characteristic – possible combinations are;
genotype RR Rr rr
Phenotype RED RED YELLOW
Slide 8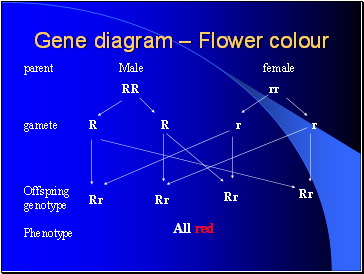 Gene diagram – Flower colour
Male female
RR
rr
parent
gamete
R R r r
Offspring genotype
Rr
Rr
Rr
Rr
Phenotype
All red
Slide 9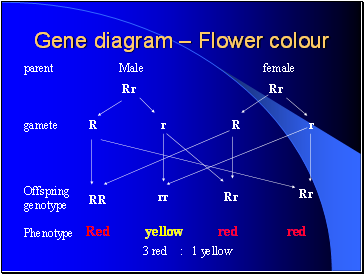 Gene diagram – Flower colour
Male female
Rr
Rr
parent
gamete
R r R r
Offspring genotype
RR
Rr
Rr
rr
Phenotype
Red yellow red red
3 red : 1 yellow
Slide 10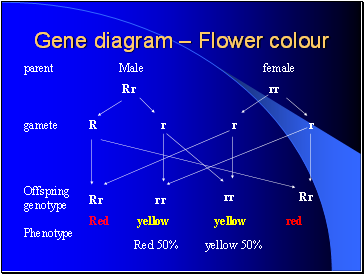 Gene diagram – Flower colour
Male female
Rr
rr
parent
gamete
R r r r
Offspring genotype
Rr
Rr
rr
rr
Phenotype
Red yellow yellow red