Sharks
Page
2
Big Mama & Sneak Attack
Slide 6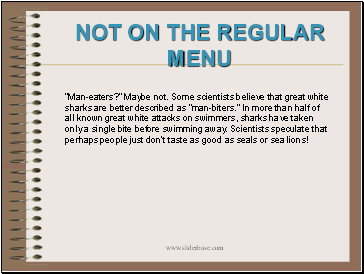 "Man-eaters?" Maybe not. Some scientists believe that great white sharks are better described as "man-biters." In more than half of all known great white attacks on swimmers, sharks have taken only a single bite before swimming away. Scientists speculate that perhaps people just don't taste as good as seals or sea lions!
Not On The Regular Menu
Slide 7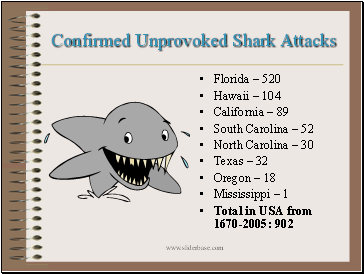 Confirmed Unprovoked Shark Attacks
Florida – 520
Hawaii – 104
California – 89
South Carolina – 52
North Carolina – 30
Texas – 32
Oregon – 18
Mississippi – 1
Total in USA from 1670-2005: 902
Slide 8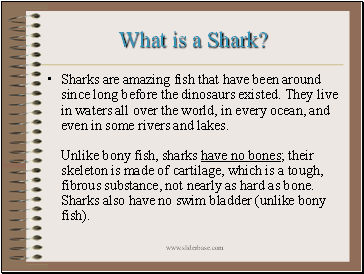 What is a Shark?
Sharks are amazing fish that have been around since long before the dinosaurs existed. They live in waters all over the world, in every ocean, and even in some rivers and lakes. Unlike bony fish, sharks have no bones; their skeleton is made of cartilage, which is a tough, fibrous substance, not nearly as hard as bone. Sharks also have no swim bladder (unlike bony fish).
Slide 9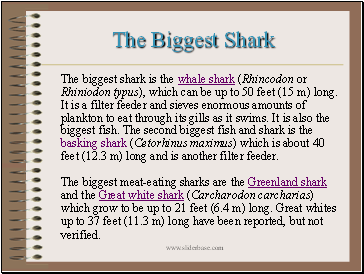 The Biggest Shark
The biggest shark is the whale shark (Rhincodon or Rhiniodon typus), which can be up to 50 feet (15 m) long. It is a filter feeder and sieves enormous amounts of plankton to eat through its gills as it swims. It is also the biggest fish. The second biggest fish and shark is the basking shark (Cetorhinus maximus) which is about 40 feet (12.3 m) long and is another filter feeder. The biggest meat-eating sharks are the Greenland shark and the Great white shark (Carcharodon carcharias) which grow to be up to 21 feet (6.4 m) long. Great whites up to 37 feet (11.3 m) long have been reported, but not verified.
Slide 10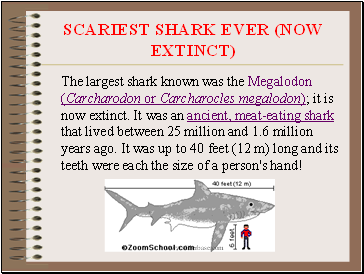 Scariest Shark Ever (Now Extinct)
The largest shark known was the Megalodon (Carcharodon or Carcharocles megalodon); it is now extinct. It was an ancient, meat-eating shark that lived between 25 million and 1.6 million years ago. It was up to 40 feet (12 m) long and its teeth were each the size of a person's hand!
Slide 11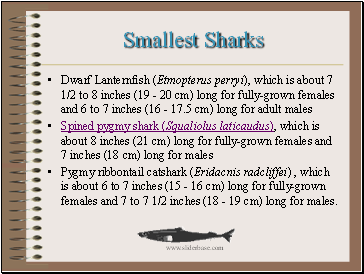 Smallest Sharks
Dwarf Lanternfish (Etmopterus perryi), which is about 7 1/2 to 8 inches (19 - 20 cm) long for fully-grown females and 6 to 7 inches (16 - 17.5 cm) long for adult males
Spined pygmy shark (Squaliolus laticaudus), which is about 8 inches (21 cm) long for fully-grown females and 7 inches (18 cm) long for males
Pygmy ribbontail catshark (Eridacnis radcliffei) , which is about 6 to 7 inches (15 - 16 cm) long for fully-grown females and 7 to 7 1/2 inches (18 - 19 cm) long for males.