Support and transport in plants
Page
4
Slide 24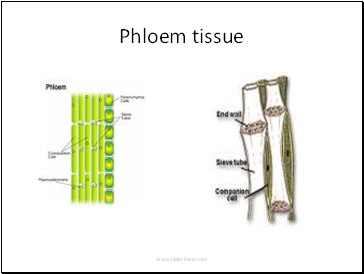 Phloem tissue
Slide 25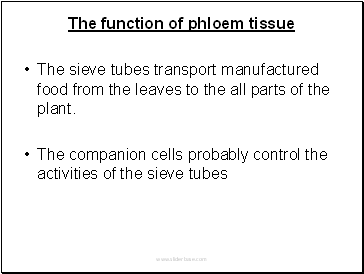 The function of phloem tissue
The sieve tubes transport manufactured food from the leaves to the all parts of the plant.
The companion cells probably control the activities of the sieve tubes
Slide 26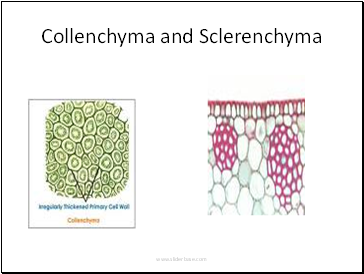 Collenchyma and Sclerenchyma
Slide 27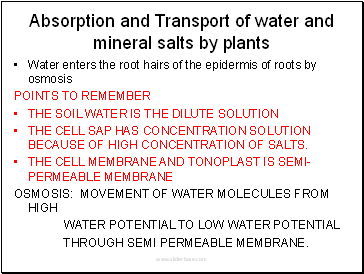 Absorption and Transport of water and mineral salts by plants
Water enters the root hairs of the epidermis of roots by osmosis
POINTS TO REMEMBER
THE SOIL WATER IS THE DILUTE SOLUTION
THE CELL SAP HAS CONCENTRATION SOLUTION BECAUSE OF HIGH CONCENTRATION OF SALTS.
THE CELL MEMBRANE AND TONOPLAST IS SEMI-PERMEABLE MEMBRANE
OSMOSIS: MOVEMENT OF WATER MOLECULES FROM HIGH
WATER POTENTIAL TO LOW WATER POTENTIAL
THROUGH SEMI PERMEABLE MEMBRANE.
Slide 28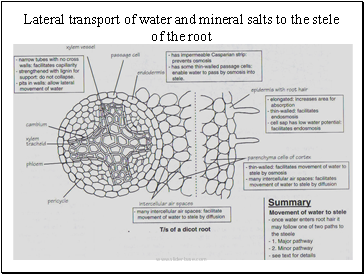 Lateral transport of water and mineral salts to the stele of the root
Slide 29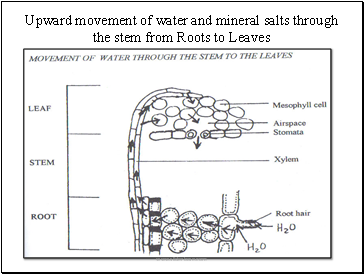 Upward movement of water and mineral salts through the stem from Roots to Leaves
Slide 30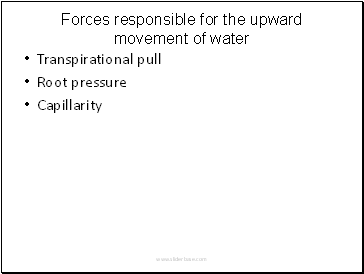 Forces responsible for the upward movement of water
Transpirational pull
Root pressure
Capillarity
Slide 31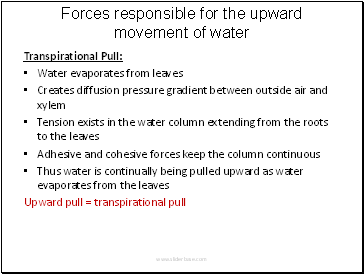 Forces responsible for the upward movement of water
Transpirational Pull:
Water evaporates from leaves
Creates diffusion pressure gradient between outside air and xylem
Tension exists in the water column extending from the roots to the leaves
Adhesive and cohesive forces keep the column continuous
Thus water is continually being pulled upward as water evaporates from the leaves
Upward pull = transpirational pull
Slide 32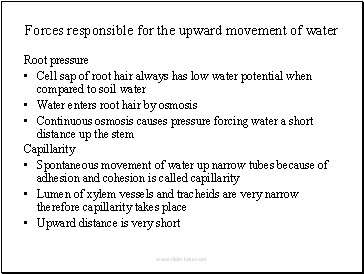 Forces responsible for the upward movement of water
Root pressure
Cell sap of root hair always has low water potential when compared to soil water
Water enters root hair by osmosis
Continuous osmosis causes pressure forcing water a short distance up the stem
Capillarity
Spontaneous movement of water up narrow tubes because of adhesion and cohesion is called capillarity
Lumen of xylem vessels and tracheids are very narrow therefore capillarity takes place
Upward distance is very short
Slide 33