Elements
Page
2
Slide 9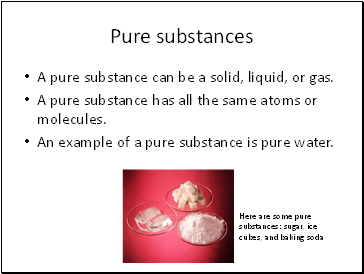 Pure substances
A pure substance can be a solid, liquid, or gas.
A pure substance has all the same atoms or molecules.
An example of a pure substance is pure water.
Here are some pure substances: sugar, ice cubes, and baking soda
Slide 10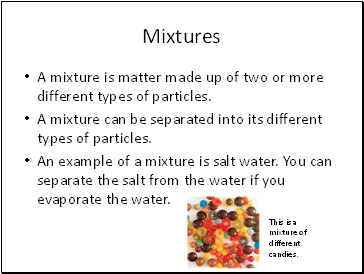 Mixtures
A mixture is matter made up of two or more different types of particles.
A mixture can be separated into its different types of particles.
An example of a mixture is salt water. You can separate the salt from the water if you evaporate the water.
This is a mixture of different candies.
Slide 11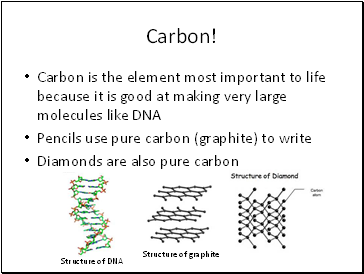 Carbon!
Carbon is the element most important to life because it is good at making very large molecules like DNA
Pencils use pure carbon (graphite) to write
Diamonds are also pure carbon
Structure of graphite
Structure of DNA
Slide 12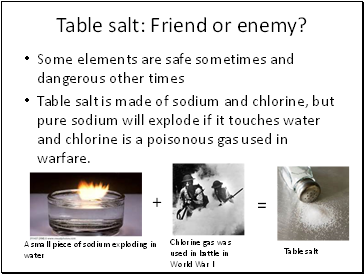 Table salt: Friend or enemy?
Some elements are safe sometimes and dangerous other times
Table salt is made of sodium and chlorine, but pure sodium will explode if it touches water and chlorine is a poisonous gas used in warfare.
A small piece of sodium exploding in water
Chlorine gas was used in battle in World War I
+
=
Table salt