Neurons
Page
3
Slide 19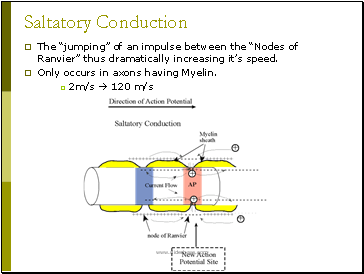 Saltatory Conduction
The "jumping" of an impulse between the "Nodes of Ranvier" thus dramatically increasing it's speed.
Only occurs in axons having Myelin.
2m/s  120 m/s
Slide 20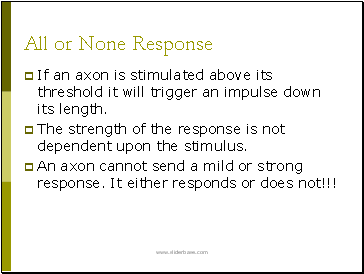 All or None Response
If an axon is stimulated above its threshold it will trigger an impulse down its length.
The strength of the response is not dependent upon the stimulus.
An axon cannot send a mild or strong response. It either responds or does not!!!
Slide 21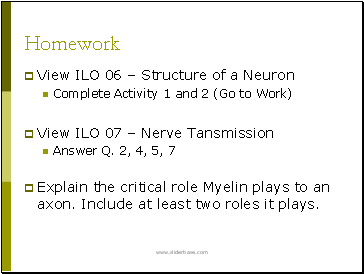 Homework
View ILO 06 – Structure of a Neuron
Complete Activity 1 and 2 (Go to Work)
View ILO 07 – Nerve Tansmission
Answer Q. 2, 4, 5, 7
Explain the critical role Myelin plays to an axon. Include at least two roles it plays.