NMR for diagnosis and drug design
Page
2
Assess blood flow in major vessels.
INVIVO SPECTROSCOPY
Chemical shift phenomenon
Diagnosis of rare disease to inborn errors- Mc Ardle's syndrome
INVIVO Analysis of Bone flouride content.
Slide 9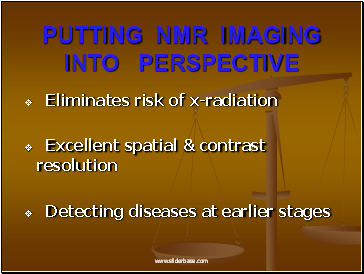 Putting Nmr Imaging Into Perspective
Eliminates risk of x-radiation
Excellent spatial & contrast resolution
Detecting diseases at earlier stages
Slide 10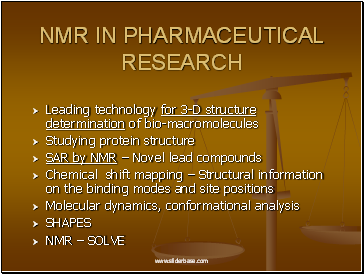 Nmr In Pharmaceutical Research
Leading technology for 3-D structure determination of bio-macromolecules
Studying protein structure
SAR by NMR – Novel lead compounds
Chemical shift mapping – Structural information on the binding modes and site positions
Molecular dynamics, conformational analysis
SHAPES
NMR – SOLVE
Slide 11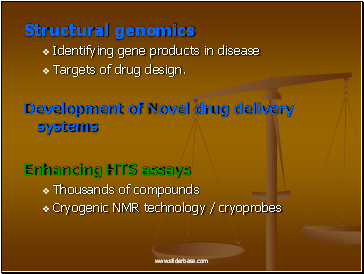 Structural genomics
Identifying gene products in disease
Targets of drug design.
Development of Novel drug delivery systems
Enhancing HTS assays
Thousands of compounds
Cryogenic NMR technology / cryoprobes
Slide 12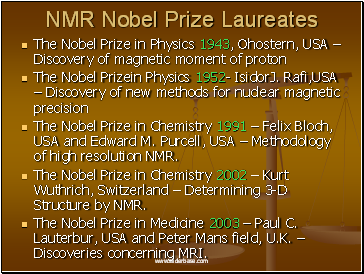 NMR Nobel Prize Laureates
The Nobel Prize in Physics 1943, Ohostern, USA – Discovery of magnetic moment of proton
The Nobel Prizein Physics 1952- IsidorJ. Rafi,USA – Discovery of new methods for nuclear magnetic precision
The Nobel Prize in Chemistry 1991 – Felix Bloch, USA and Edward M. Purcell, USA – Methodology of high resolution NMR.
The Nobel Prize in Chemistry 2002 – Kurt Wuthrich, Switzerland – Determining 3-D Structure by NMR.
The Nobel Prize in Medicine 2003 – Paul C. Lauterbur, USA and Peter Mans field, U.K. – Discoveries concerning MRI.
Slide 13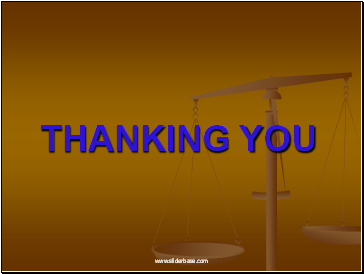 THANKING YOU