Nutritional requirements
Page
3
To prevent the Iodine deficiency, now-a-days iodine is added to the common salt (Iodised salt).
Naturally iodine is found in
vegetables and sea food.
Slide 10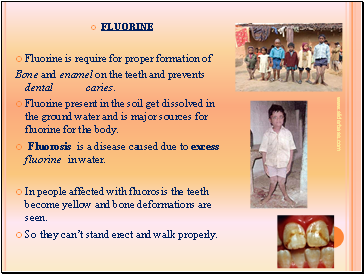 Fluorine
Fluorine is require for proper formation of
Bone and enamel on the teeth and prevents dental caries.
Fluorine present in the soil get dissolved in the ground water and is major sources for fluorine for the body.
Fluorosis is a disease caused due to excess fluorine in water.
In people affected with fluorosis the teeth become yellow and bone deformations are seen.
So they can't stand erect and walk properly.
Slide 11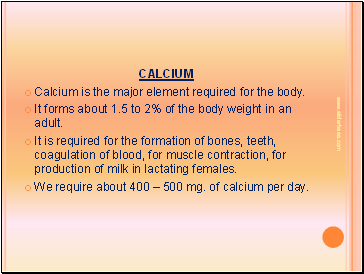 Calcium
Calcium is the major element required for the body.
It forms about 1.5 to 2% of the body weight in an adult.
It is required for the formation of bones, teeth, coagulation of blood, for muscle contraction, for production of milk in lactating females.
We require about 400 – 500 mg. of calcium per day.
Slide 12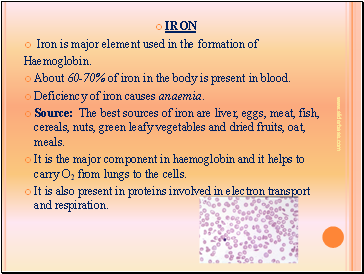 Iron
Iron is major element used in the formation of
Haemoglobin.
About 60-70% of iron in the body is present in blood.
Deficiency of iron causes anaemia.
Source: The best sources of iron are liver, eggs, meat, fish, cereals, nuts, green leafy vegetables and dried fruits, oat, meals.
It is the major component in haemoglobin and it helps to carry O2 from lungs to the cells.
It is also present in proteins involved in electron transport and respiration.
Slide 13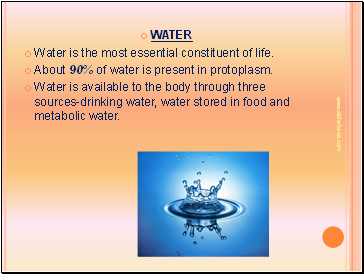 Water
Water is the most essential constituent of life.
About 90% of water is present in protoplasm.
Water is available to the body through three sources-drinking water, water stored in food and metabolic water.