Acids, Bases, & Salts
Page
2
Conjugate acid- compound formed when an base gains a hydrogen ion.
Conjugate base – compound formed when an acid loses a hydrogen ion.
Slide 13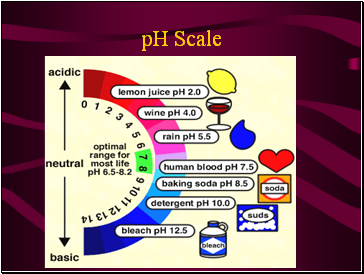 pH Scale
Slide 14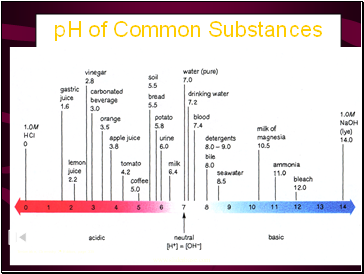 pH of Common Substances
Timberlake, Chemistry 7th Edition, page 335
Slide 15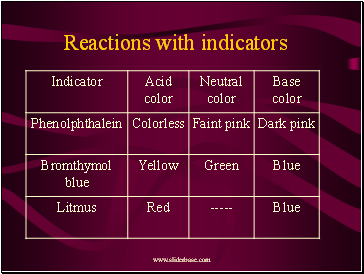 Reactions with indicators
Slide 16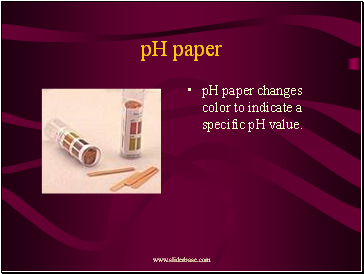 pH paper
pH paper changes color to indicate a specific pH value.
Slide 17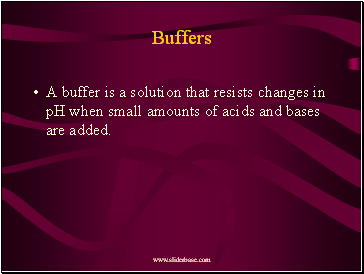 Buffers
A buffer is a solution that resists changes in pH when small amounts of acids and bases are added.
Slide 18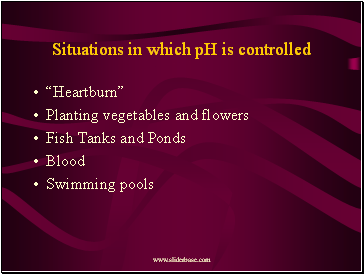 Situations in which pH is controlled
"Heartburn"
Planting vegetables and flowers
Fish Tanks and Ponds
Blood
Swimming pools
Slide 19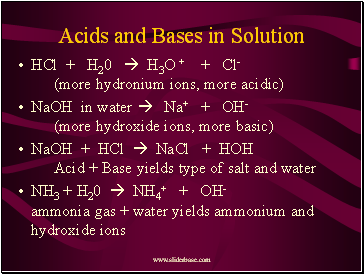 Acids and Bases in Solution
HCl + H20  H3O + + Cl- (more hydronium ions, more acidic)
NaOH in water  Na+ + OH- (more hydroxide ions, more basic)
NaOH + HCl  NaCl + HOH Acid + Base yields type of salt and water
NH3 + H20  NH4+ + OH- ammonia gas + water yields ammonium and hydroxide ions
Slide 20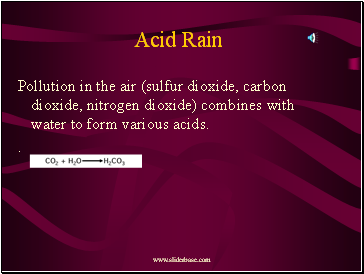 Acid Rain
Pollution in the air (sulfur dioxide, carbon dioxide, nitrogen dioxide) combines with water to form various acids.
.
Slide 21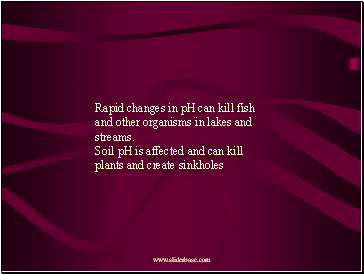 Rapid changes in pH can kill fish and other organisms in lakes and streams.
Soil pH is affected and can kill plants and create sinkholes
Slide 22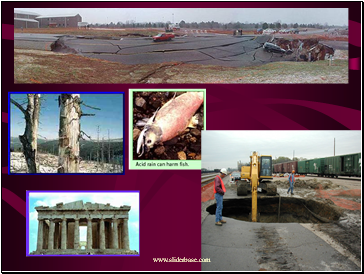 Slide 23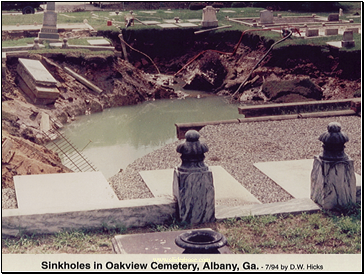 Slide 24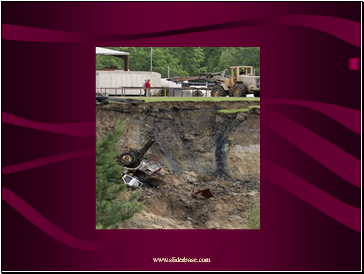 Slide 25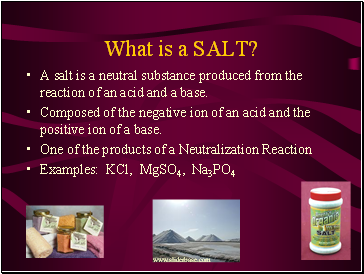 What is a SALT?
A salt is a neutral substance produced from the reaction of an acid and a base.
Composed of the negative ion of an acid and the positive ion of a base.
One of the products of a Neutralization Reaction
Examples: KCl, MgSO4, Na3PO4
Slide 26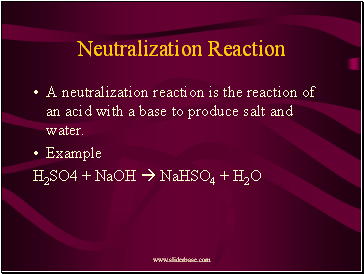 Neutralization Reaction
A neutralization reaction is the reaction of an acid with a base to produce salt and water.