World War II (1939–1945)
Page
15
Slide 81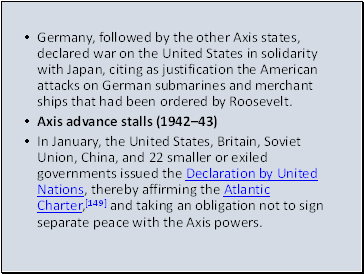 Germany, followed by the other Axis states, declared war on the United States in solidarity with Japan, citing as justification the American attacks on German submarines and merchant ships that had been ordered by Roosevelt.
Axis advance stalls (1942–43)
In January, the United States, Britain, Soviet Union, China, and 22 smaller or exiled governments issued the Declaration by United Nations, thereby affirming the Atlantic Charter,[149] and taking an obligation not to sign separate peace with the Axis powers.
Slide 82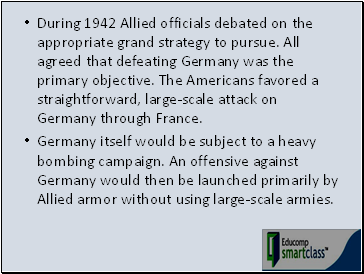 During 1942 Allied officials debated on the appropriate grand strategy to pursue. All agreed that defeating Germany was the primary objective. The Americans favored a straightforward, large-scale attack on Germany through France.
Germany itself would be subject to a heavy bombing campaign. An offensive against Germany would then be launched primarily by Allied armor without using large-scale armies.
Slide 83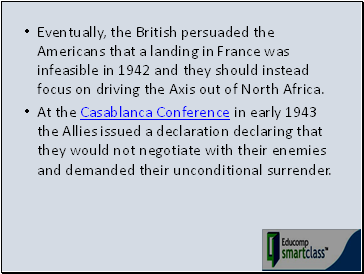 Eventually, the British persuaded the Americans that a landing in France was infeasible in 1942 and they should instead focus on driving the Axis out of North Africa.
At the Casablanca Conference in early 1943 the Allies issued a declaration declaring that they would not negotiate with their enemies and demanded their unconditional surrender.
Slide 84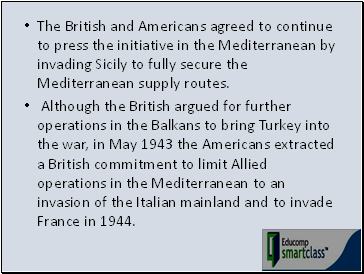 The British and Americans agreed to continue to press the initiative in the Mediterranean by invading Sicily to fully secure the Mediterranean supply routes.
Although the British argued for further operations in the Balkans to bring Turkey into the war, in May 1943 the Americans extracted a British commitment to limit Allied operations in the Mediterranean to an invasion of the Italian mainland and to invade France in 1944.
Slide 85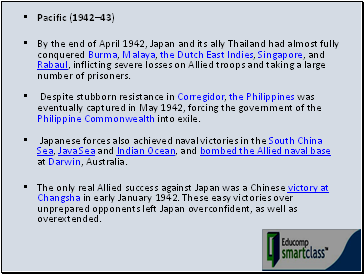 Pacific (1942–43)
By the end of April 1942, Japan and its ally Thailand had almost fully conquered Burma, Malaya, the Dutch East Indies, Singapore, and Rabaul, inflicting severe losses on Allied troops and taking a large number of prisoners.
Despite stubborn resistance in Corregidor, the Philippines was eventually captured in May 1942, forcing the government of the Philippine Commonwealth into exile.
Japanese forces also achieved naval victories in the South China Sea, Java Sea and Indian Ocean, and bombed the Allied naval base at Darwin, Australia.
The only real Allied success against Japan was a Chinese victory at Changsha in early January 1942. These easy victories over unprepared opponents left Japan overconfident, as well as overextended.