World War II (1939–1945)
Page
20
The Allies experienced mixed fortunes in mainland Asia. In March 1944, the Japanese launched the first of two invasions, an operation against British positions in Assam, India, and soon besieged Commonwealth positions at Imphal and Kohima.
Slide 105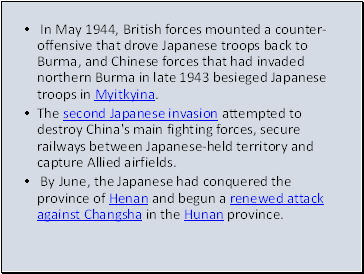 In May 1944, British forces mounted a counter-offensive that drove Japanese troops back to Burma, and Chinese forces that had invaded northern Burma in late 1943 besieged Japanese troops in Myitkyina.
The second Japanese invasion attempted to destroy China's main fighting forces, secure railways between Japanese-held territory and capture Allied airfields.
By June, the Japanese had conquered the province of Henan and begun a renewed attack against Changsha in the Hunan province.
Slide 106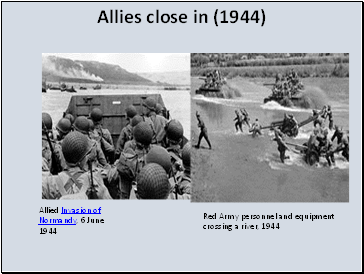 Allies close in (1944)
Allied Invasion of Normandy, 6 June 1944
Red Army personnel and equipment crossing a river, 1944
Slide 107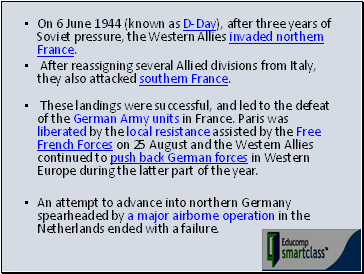 On 6 June 1944 (known as D-Day), after three years of Soviet pressure, the Western Allies invaded northern France.
After reassigning several Allied divisions from Italy, they also attacked southern France.
These landings were successful, and led to the defeat of the German Army units in France. Paris was liberated by the local resistance assisted by the Free French Forces on 25 August and the Western Allies continued to push back German forces in Western Europe during the latter part of the year.
An attempt to advance into northern Germany spearheaded by a major airborne operation in the Netherlands ended with a failure.
Slide 108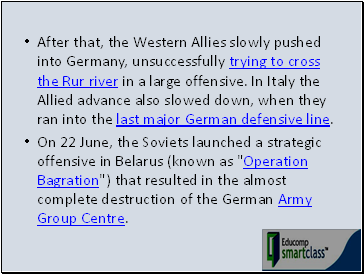 After that, the Western Allies slowly pushed into Germany, unsuccessfully trying to cross the Rur river in a large offensive. In Italy the Allied advance also slowed down, when they ran into the last major German defensive line.
On 22 June, the Soviets launched a strategic offensive in Belarus (known as "Operation Bagration") that resulted in the almost complete destruction of the German Army Group Centre.
Slide 109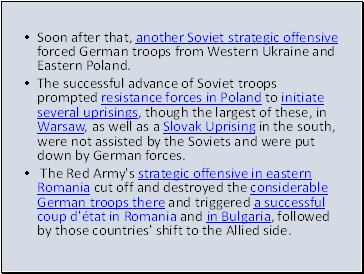 Soon after that, another Soviet strategic offensive forced German troops from Western Ukraine and Eastern Poland.
The successful advance of Soviet troops prompted resistance forces in Poland to initiate several uprisings, though the largest of these, in Warsaw, as well as a Slovak Uprising in the south, were not assisted by the Soviets and were put down by German forces.
The Red Army's strategic offensive in eastern Romania cut off and destroyed the considerable German troops there and triggered a successful coup d'état in Romania and in Bulgaria, followed by those countries' shift to the Allied side.