History of Archaeology
Page
5
Includes concepts of:
Culture as interactive
Culture change must include women, ethnic minorities, illiterate (under-represented groups).
Archaeologists bring cultural biases to work, act as mediators of the past.
"The archaeology of the mind"
www.sliderbase.com
Slide 23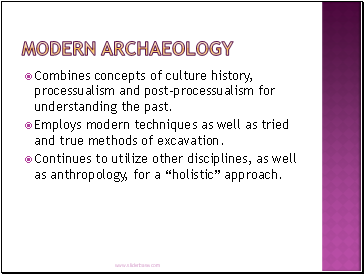 Modern Archaeology
Combines concepts of culture history, processualism and post-processualism for understanding the past.
Employs modern techniques as well as tried and true methods of excavation.
Continues to utilize other disciplines, as well as anthropology, for a "holistic" approach.
www.sliderbase.com