Atoms and the Periodic table
Page
2
Slide 9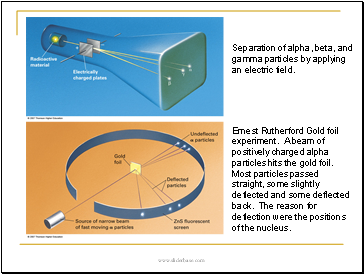 Separation of alpha, beta, and gamma particles by applying an electric field.
Ernest Rutherford Gold foil experiment. A beam of positively charged alpha particles hits the gold foil. Most particles passed straight, some slightly deflected and some deflected back. The reason for deflection were the positions of the nucleus.
Slide 10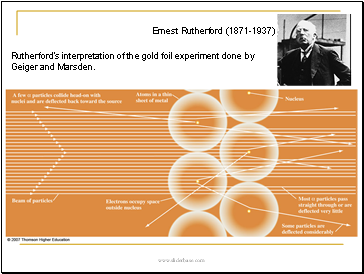 Rutherfordís interpretation of the gold foil experiment done by Geiger and Marsden.
Slide 11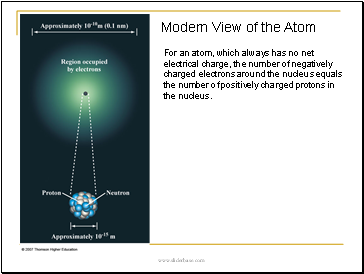 Modern View of the Atom
For an atom, which always has no net electrical charge, the number of negatively charged electrons around the nucleus equals the number of positively charged protons in the nucleus.
Slide 12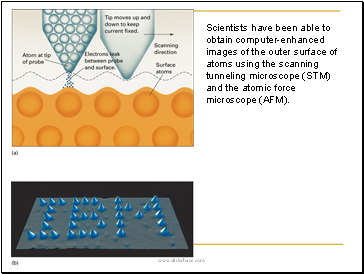 Scientists have been able to obtain computer-enhanced images of the outer surface of atoms using the scanning tunneling microscope (STM) and the atomic force microscope (AFM).
Slide 13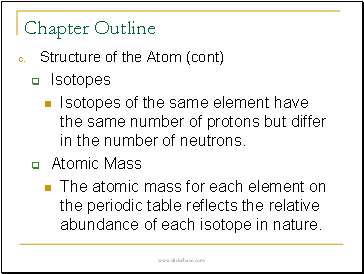 Chapter Outline
• Structure of the Atom (cont)
Isotopes
Isotopes of the same element have the same number of protons but differ in the number of neutrons.
Atomic Mass
The atomic mass for each element on the periodic table reflects the relative abundance of each isotope in nature.
Slide 14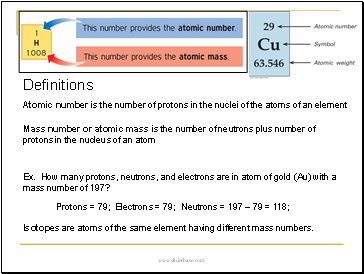 Definitions
Atomic number is the number of protons in the nuclei of the atoms of an element
Mass number or atomic mass is the number of neutrons plus number of protons in the nucleus of an atom
Mass number = #ís of protons + #ís of neutrons
Ex. How many protons, neutrons, and electrons are in atom of gold (Au) with a mass number of 197?
Protons = 79;
Electrons = 79;
Neutrons = 197 Ė 79 = 118;
Isotopes are atoms of the same element having different mass numbers.
Slide 15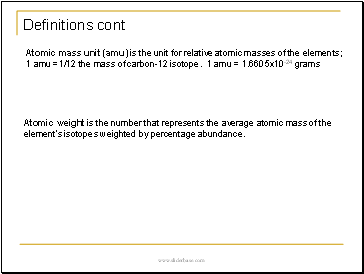 Definitions cont
Atomic mass unit (amu) is the unit for relative atomic masses of the elements; 1 amu =1/12 the mass of carbon-12 isotope. 1 amu = 1.6605x10-24 grams
Atomic weight is the number that represents the average atomic mass of the elementís isotopes weighted by percentage abundance.
Slide 16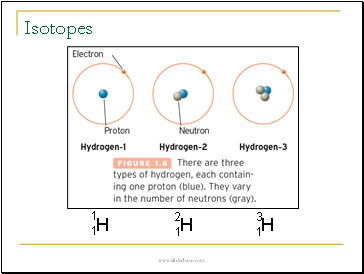 Isotopes
Slide 17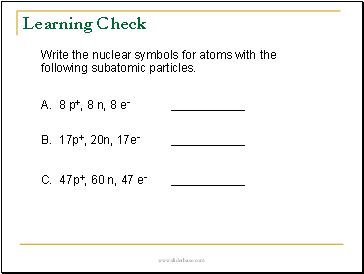 Learning Check
Write the nuclear symbols for atoms with the following subatomic particles.