Atoms and the Periodic table
Page
1
Slide 1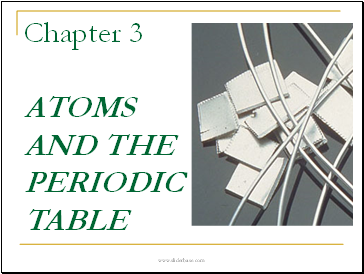 Atoms and the periodic table
Slide 2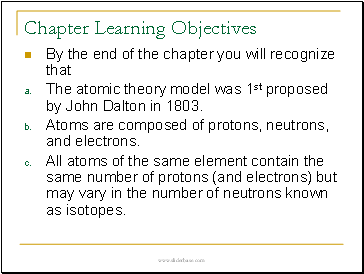 Chapter Learning Objectives
By the end of the chapter you will recognize that
• The atomic theory model was 1st proposed by John Dalton in 1803.
• Atoms are composed of protons, neutrons, and electrons.
• All atoms of the same element contain the same number of protons (and electrons) but may vary in the number of neutrons known as isotopes.
Slide 3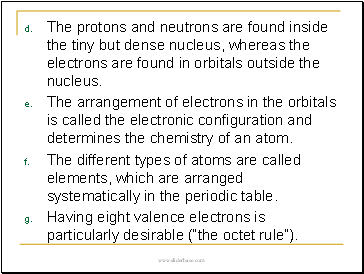 •The protons and neutrons are found inside the tiny but dense nucleus, whereas the electrons are found in orbitals outside the nucleus.
•The arrangement of electrons in the orbitals is called the electronic configuration and determines the chemistry of an atom.
•The different types of atoms are called elements, which are arranged systematically in the periodic table.
•Having eight valence electrons is particularly desirable ("the octet rule").
Slide 4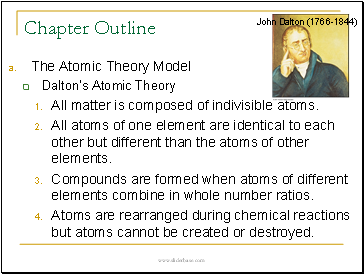 Chapter Outline
• The Atomic Theory Model
Dalton's Atomic Theory
• All matter is composed of indivisible atoms.
• All atoms of one element are identical to each other but different than the atoms of other elements.
• Compounds are formed when atoms of different elements combine in whole number ratios.
• Atoms are rearranged during chemical reactions but atoms cannot be created or destroyed.
Slide 5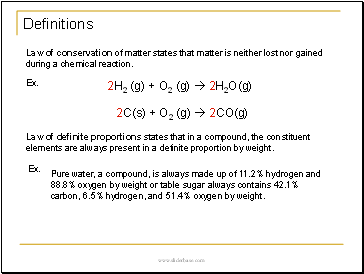 Definitions
Law of conservation of matter states that matter is neither lost nor gained during a chemical reaction.
Law of definite proportions states that in a compound, the constituent elements are always present in a definite proportion by weight.
Pure water, a compound, is always made up of 11.2% hydrogen and 88.8% oxygen by weight or table sugar always contains 42.1% carbon, 6.5% hydrogen, and 51.4% oxygen by weight.
Slide 6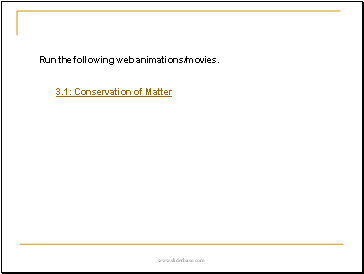 Conservation of Matter
Run the following web animations/movies.
3.1:
Slide 7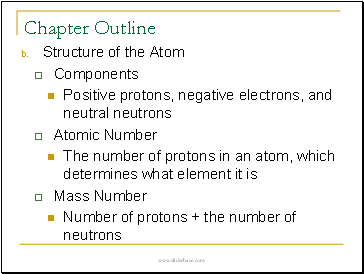 Chapter Outline
• Structure of the Atom
Components
Positive protons, negative electrons, and neutral neutrons
Atomic Number
The number of protons in an atom, which determines what element it is
Mass Number
Number of protons + the number of neutrons
Slide 8