Atoms and their structure
Page
4
Since most of the particles went through, it was mostly empty.
Because the pieces turned so much, the positive pieces were heavy.
Small volume, big mass, big density.
This small dense positive area is the nucleus.
Slide 39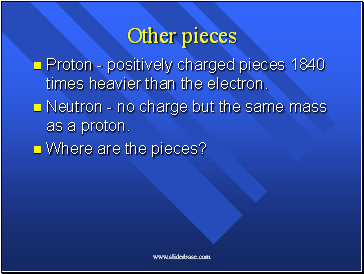 Other pieces
Proton - positively charged pieces 1840 times heavier than the electron.
Neutron - no charge but the same mass as a proton.
Where are the pieces?
Slide 40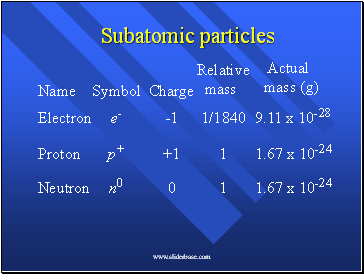 Subatomic particles
Electron
Proton
Neutron
Name
Symbol
Charge
Relative
mass
Actual
mass (g)
e-
p+
n0
-1
+1
0
1/1840
1
1
9.11 x 10-28
1.67 x 10-24
1.67 x 10-24
Slide 41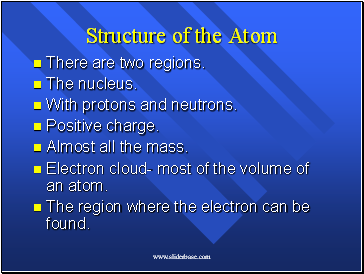 Structure of the Atom
There are two regions.
The nucleus.
With protons and neutrons.
Positive charge.
Almost all the mass.
Electron cloud- most of the volume of an atom.
The region where the electron can be found.
Slide 42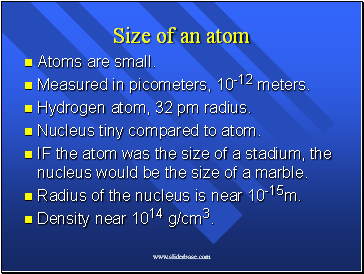 Size of an atom
Atoms are small.
Measured in picometers, 10-12 meters.
Hydrogen atom, 32 pm radius.
Nucleus tiny compared to atom.
IF the atom was the size of a stadium, the nucleus would be the size of a marble.
Radius of the nucleus is near 10-15m.
Density near 1014 g/cm3.
Slide 43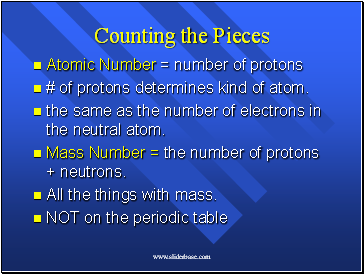 Counting the Pieces
Atomic Number = number of protons
# of protons determines kind of atom.
the same as the number of electrons in the neutral atom.
Mass Number = the number of protons + neutrons.
All the things with mass.
NOT on the periodic table
Slide 44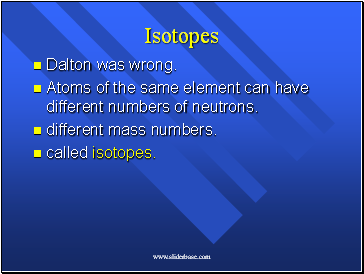 Isotopes
Dalton was wrong.
Atoms of the same element can have different numbers of neutrons.
different mass numbers.
called isotopes.
Slide 45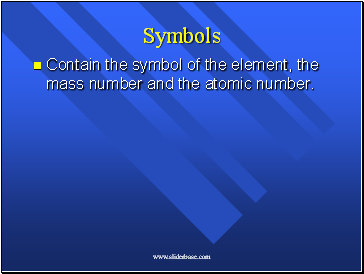 Symbols
Contain the symbol of the element, the mass number and the atomic number.
Slide 46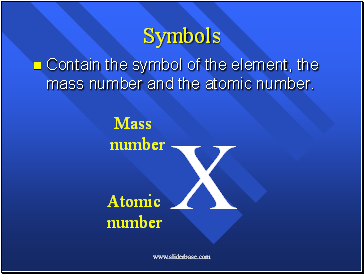 Symbols
Contain the symbol of the element, the mass number and the atomic number.
X
Mass
number
Atomic
number
Slide 47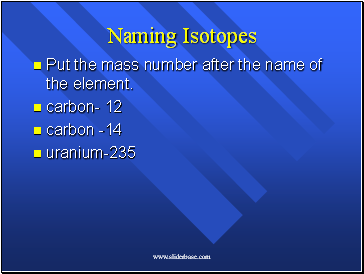 Naming Isotopes
Put the mass number after the name of the element.
carbon- 12
carbon -14
uranium-235
Slide 48