The Building Blocks of Matter Atoms
Page
5
+
+
+
+
-
-
-
-
-
-
-
-
+
-
Now that this atom of oxygen just gained an electron, it is no longer neutral or an atom. It is now considered an ion (anion). This ion has more electrons (9) than protons (8).
9
6
Symbol = O1-
Now that three electrons were lost, the number of electrons (6) and protons (8) is still unbalanced; therefore, it is still an ion, but now it is specifically referred to as a cation.
Currently, this atom of oxygen is neutral because it has an equal number of electrons (8) and protons (8).
Symbol = O
Slide 29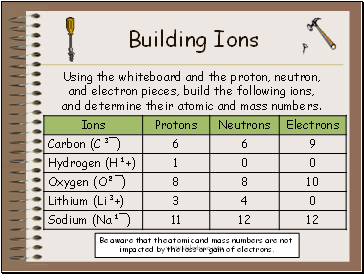 Building Ions
Using the whiteboard and the proton, neutron, and electron pieces, build the following ions, and determine their atomic and mass numbers.
Be aware that the atomic and mass numbers are not
impacted by the loss or gain of electrons.