What Is Archaeology Studying Past Cultures
Page
2
systematic study of the past in this context.
www.sliderbase.com
Slide 8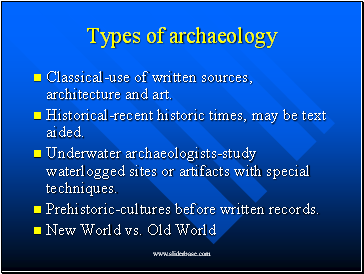 Types of archaeology
Classical-use of written sources, architecture and art.
Historical-recent historic times, may be text aided.
Underwater archaeologists-study waterlogged sites or artifacts with special techniques.
Prehistoric-cultures before written records.
New World vs. Old World
www.sliderbase.com
Slide 9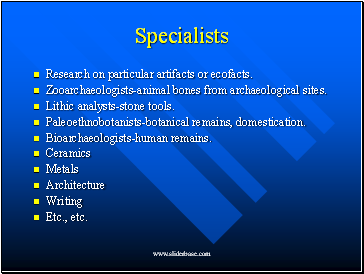 Specialists
Research on particular artifacts or ecofacts.
Zooarchaeologists-animal bones from archaeological sites.
Lithic analysts-stone tools.
Paleoethnobotanists-botanical remains, domestication.
Bioarchaeologists-human remains.
Ceramics
Metals
Architecture
Writing
Etc., etc.
www.sliderbase.com
Slide 10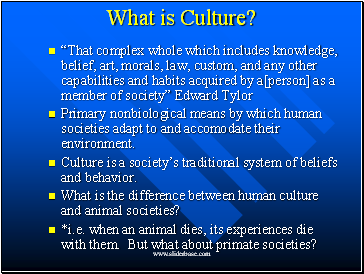 What is Culture?
"That complex whole which includes knowledge, belief, art, morals, law, custom, and any other capabilities and habits acquired by a[person] as a member of society" Edward Tylor
Primary nonbiological means by which human societies adapt to and accomodate their environment.
Culture is a society's traditional system of beliefs and behavior.
What is the difference between human culture and animal societies?
*i.e. when an animal dies, its experiences die with them. But what about primate societies?
www.sliderbase.com
Slide 11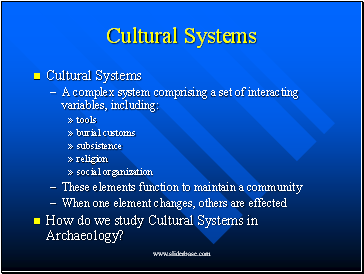 Cultural Systems
Cultural Systems
A complex system comprising a set of interacting variables, including:
tools
burial customs
subsistence
religion
social organization
These elements function to maintain a community
When one element changes, others are effected
How do we study Cultural Systems in Archaeology?
www.sliderbase.com
Slide 12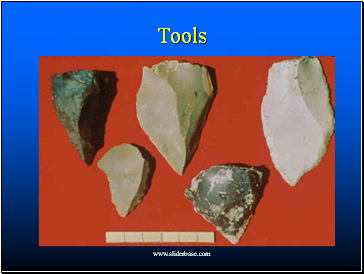 Tools
www.sliderbase.com
Slide 13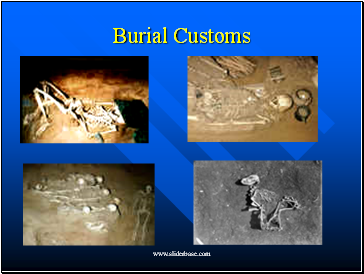 Burial Customs
www.sliderbase.com
Slide 14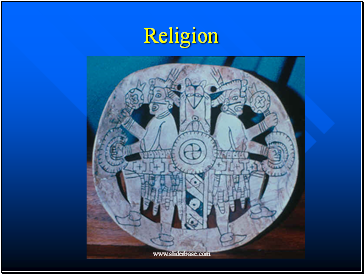 Religion
www.sliderbase.com
Slide 15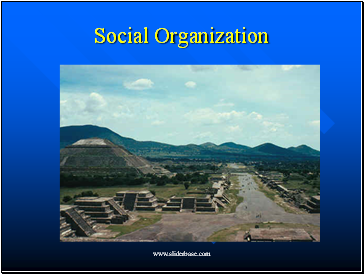 Social Organization
www.sliderbase.com
Slide 16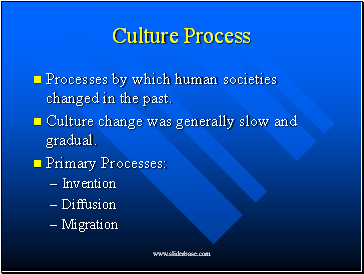 Culture Process
Processes by which human societies changed in the past.
Culture change was generally slow and gradual.
Primary Processes:
Invention
Diffusion