Communism and the Cold War
Page
3
increasing control over media--especially TV
arrest of oligarchs on trumped up charges--Khodorkovsky
using Chechen war to make governorships appointed, not elected
www.sliderbase.com
Slide 22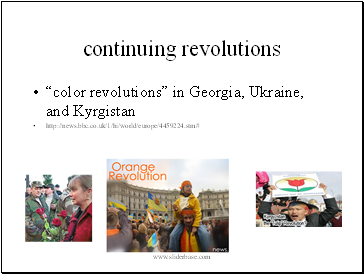 continuing revolutions
"color revolutions" in Georgia, Ukraine, and Kyrgistan
http://news.bbc.co.uk/1/hi/world/europe/4459224.stm#
www.sliderbase.com
Slide 23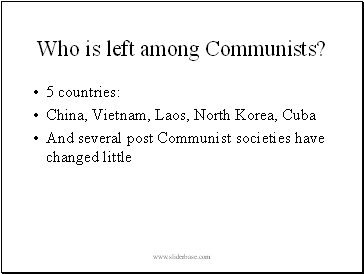 Who is left among Communists?
5 countries:
China, Vietnam, Laos, North Korea, Cuba
And several post Communist societies have changed little
www.sliderbase.com
Slide 24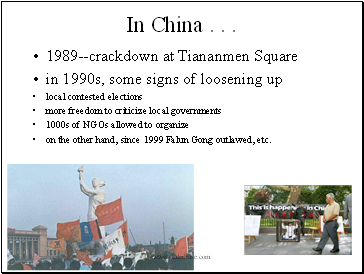 In China . . .
1989--crackdown at Tiananmen Square
in 1990s, some signs of loosening up
local contested elections
more freedom to criticize local governments
1000s of NGOs allowed to organize
on the other hand, since 1999 Falun Gong outlawed, etc.
www.sliderbase.com