Neurons, Synapses, and Signaling
Page
2
An axon joins the cell body at the axon hillock.
Slide 10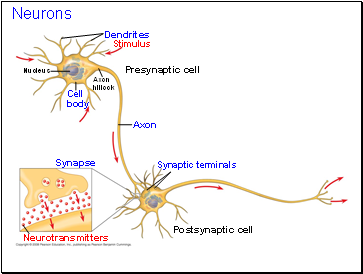 Neurons
Dendrites
Stimulus
Nucleus
Cell
body
Axon
hillock
Presynaptic cell
Axon
Synaptic terminals
Synapse
Postsynaptic cell
Neurotransmitters
Slide 11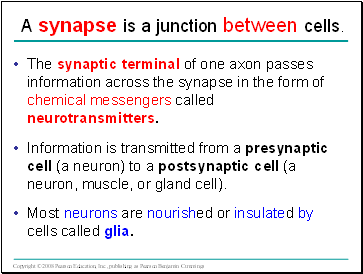 A synapse is a junction between cells.
The synaptic terminal of one axon passes information across the synapse in the form of chemical messengers called neurotransmitters.
Information is transmitted from a presynaptic cell (a neuron) to a postsynaptic cell (a neuron, muscle, or gland cell).
Most neurons are nourished or insulated by cells called glia.
Slide 12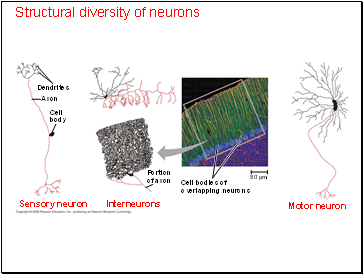 Structural diversity of neurons
Dendrites
Axon
Cell
body
Sensory neuron
Interneurons
Portion
of axon
Cell bodies of
overlapping neurons
80 µm
Motor neuron
Slide 13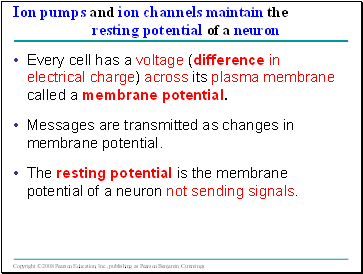 Ion pumps and ion channels maintain the resting potential of a neuron
Every cell has a voltage (difference in electrical charge) across its plasma membrane called a membrane potential.
Messages are transmitted as changes in membrane potential.
The resting potential is the membrane potential of a neuron not sending signals.
Slide 14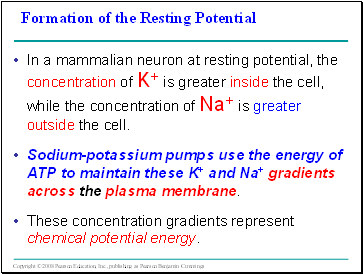 Formation of the Resting Potential
In a mammalian neuron at resting potential, the concentration of K+ is greater inside the cell, while the concentration of Na+ is greater outside the cell.
Sodium-potassium pumps use the energy of ATP to maintain these K+ and Na+ gradients across the plasma membrane.
These concentration gradients represent chemical potential energy.
Slide 15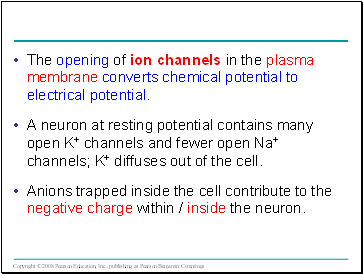 The opening of ion channels in the plasma membrane converts chemical potential to electrical potential.
A neuron at resting potential contains many open K+ channels and fewer open Na+ channels; K+ diffuses out of the cell.
Anions trapped inside the cell contribute to the negative charge within / inside the neuron.
Slide 16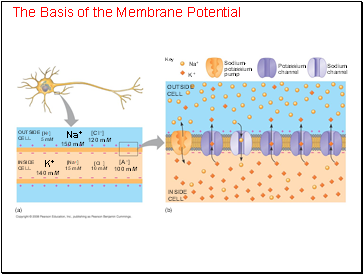 The Basis of the Membrane Potential
OUTSIDE
CELL
[K+]
5 mM
Na+
150 mM
[Cl–]
120 mM
INSIDE
CELL
K+
140 mM
[Na+]
15 mM
[Cl–]
10 mM
[A–]
100 mM
(a)
(b)
OUTSIDE
CELL
Na+
Key
K+
Sodium-
potassium
pump
Potassium
channel
Sodium
channel
INSIDE
CELL