Neurons, Synapses, and Signaling
Page
8
Slide 53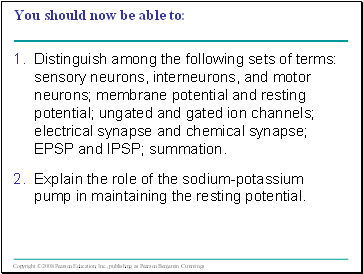 You should now be able to:
Distinguish among the following sets of terms: sensory neurons, interneurons, and motor neurons; membrane potential and resting potential; ungated and gated ion channels; electrical synapse and chemical synapse; EPSP and IPSP; summation.
Explain the role of the sodium-potassium pump in maintaining the resting potential.
Slide 54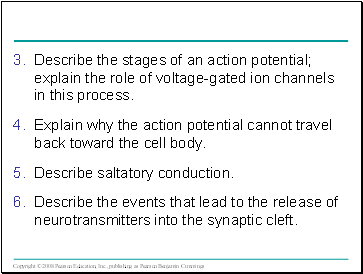 Describe the stages of an action potential; explain the role of voltage-gated ion channels in this process.
Explain why the action potential cannot travel back toward the cell body.
Describe saltatory conduction.
Describe the events that lead to the release of neurotransmitters into the synaptic cleft.
Slide 55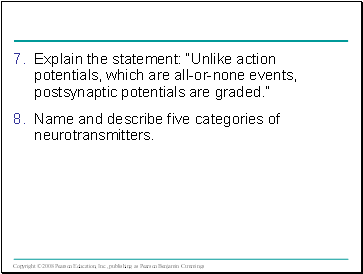 Explain the statement: "Unlike action potentials, which are all-or-none events, postsynaptic potentials are graded."
Name and describe five categories of neurotransmitters.