Neurons, Synapses, and Signaling
Page
6
Most synapses are chemical synapses.
Slide 38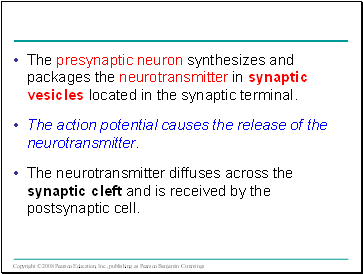 The presynaptic neuron synthesizes and packages the neurotransmitter in synaptic vesicles located in the synaptic terminal.
The action potential causes the release of the neurotransmitter.
The neurotransmitter diffuses across the synaptic cleft and is received by the postsynaptic cell.
Slide 39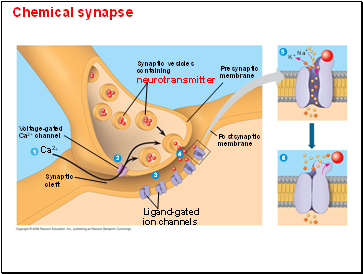 Chemical synapse
Voltage-gated
Ca2+ channel
Ca2+
1
2
3
4
Synaptic
cleft
Ligand-gated
ion channels
Postsynaptic
membrane
Presynaptic
membrane
Synaptic vesicles
containing
neurotransmitter
5
6
K+
Na+
Slide 40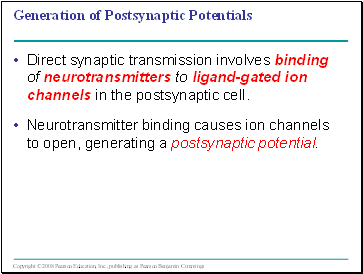 Generation of Postsynaptic Potentials
Direct synaptic transmission involves binding of neurotransmitters to ligand-gated ion channels in the postsynaptic cell.
Neurotransmitter binding causes ion channels to open, generating a postsynaptic potential.
Slide 41
Postsynaptic potentials fall into two categories:
Excitatory postsynaptic potentials (EPSPs) are depolarizations that bring the membrane potential toward threshold.
Inhibitory postsynaptic potentials (IPSPs) are hyperpolarizations that move the membrane potential farther from threshold.
Slide 42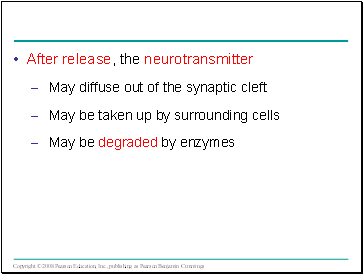 After release, the neurotransmitter
May diffuse out of the synaptic cleft
May be taken up by surrounding cells
May be degraded by enzymes
Slide 43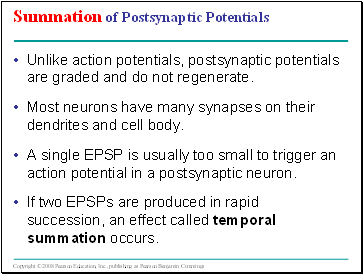 Summation of Postsynaptic Potentials
Unlike action potentials, postsynaptic potentials are graded and do not regenerate.
Most neurons have many synapses on their dendrites and cell body.
A single EPSP is usually too small to trigger an action potential in a postsynaptic neuron.
If two EPSPs are produced in rapid succession, an effect called temporal summation occurs.
Slide 44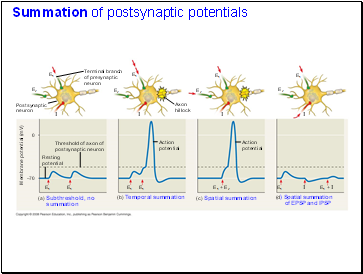 Summation of postsynaptic potentials
Terminal branch
of presynaptic
neuron
E1
E2
I
Postsynaptic
neuron
Threshold of axon of
postsynaptic neuron
Resting
potential
E1
E1
0
–70
Membrane potential (mV)
(a) Subthreshold, no
summation
(b) Temporal summation
E1
E1
Action
potential
I
Axon
hillock
E1
E2
E2
E1
I
Action
potential
E1 + E2
(c) Spatial summation
I
E1
E1 + I
(d) Spatial summation