Conservation Biology and Restoration Ecology
Page
6
(a) In 1991, before restoration
(b) In 2000, near the completion of restoration
Slide 41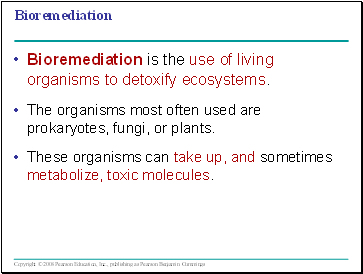 Bioremediation
Bioremediation is the use of living organisms to detoxify ecosystems.
The organisms most often used are prokaryotes, fungi, or plants.
These organisms can take up, and sometimes metabolize, toxic molecules.
Slide 42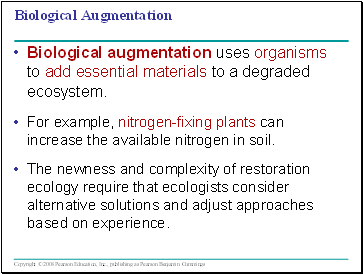 Biological Augmentation
Biological augmentation uses organisms to add essential materials to a degraded ecosystem.
For example, nitrogen-fixing plants can increase the available nitrogen in soil.
The newness and complexity of restoration ecology require that ecologists consider alternative solutions and adjust approaches based on experience.
Slide 43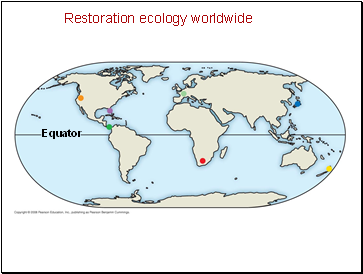 Restoration ecology worldwide
Equator
Slide 44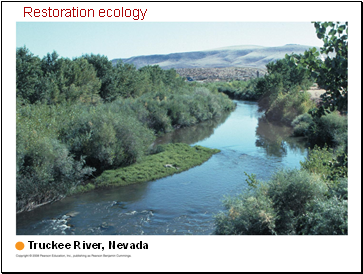 Restoration ecology
Truckee River, Nevada
Slide 45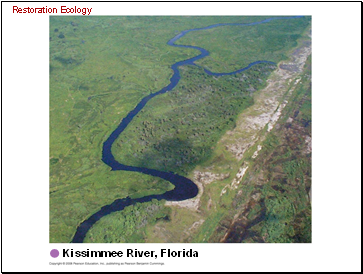 Restoration Ecology
Kissimmee River, Florida
Slide 46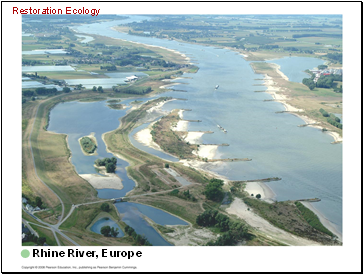 Restoration Ecology
Rhine River, Europe
Slide 47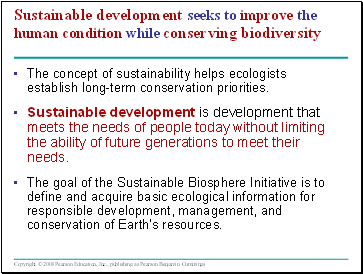 Sustainable development seeks to improve the human condition while conserving biodiversity
The concept of sustainability helps ecologists establish long-term conservation priorities.
Sustainable development is development that meets the needs of people today without limiting the ability of future generations to meet their needs.
The goal of the Sustainable Biosphere Initiative is to define and acquire basic ecological information for responsible development, management, and conservation of Earth's resources.
Slide 48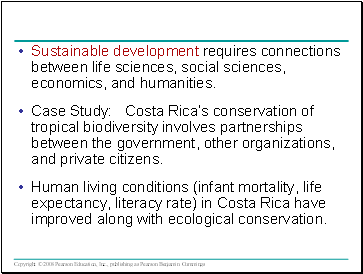 Sustainable development requires connections between life sciences, social sciences, economics, and humanities.
Case Study: Costa Rica's conservation of tropical biodiversity involves partnerships between the government, other organizations, and private citizens.
Human living conditions (infant mortality, life expectancy, literacy rate) in Costa Rica have improved along with ecological conservation.
Slide 49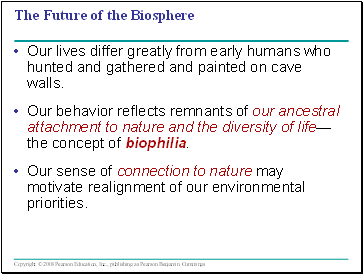 The Future of the Biosphere
Our lives differ greatly from early humans who hunted and gathered and painted on cave walls.
Our behavior reflects remnants of our ancestral attachment to nature and the diversity of life—the concept of biophilia.