Sensory and Motor Mechanisms
Page
8
Skeletal Muscle
Bundle of muscle fibers
TEM
Muscle
Thick filaments myosin
M line
Single muscle fiber (cell)
Nuclei
Z lines
Plasma membrane
Myofibril
Sarcomere
Z line
Z line
Thin filaments actin
Sarcomere
0.5 µm
Slide 56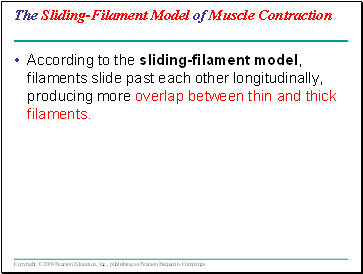 The Sliding-Filament Model of Muscle Contraction
According to the sliding-filament model, filaments slide past each other longitudinally, producing more overlap between thin and thick filaments.
Slide 57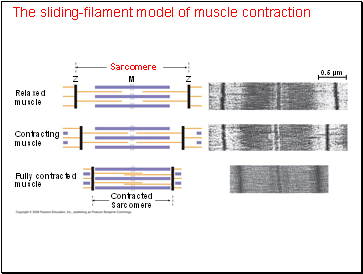 The sliding-filament model of muscle contraction
Z
Relaxed muscle
M
Z
Fully contracted muscle
Contracting muscle
Sarcomere
0.5 µm
Contracted Sarcomere
Slide 58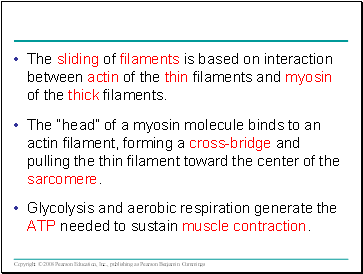 The sliding of filaments is based on interaction between actin of the thin filaments and myosin of the thick filaments.
The "head" of a myosin molecule binds to an actin filament, forming a cross-bridge and pulling the thin filament toward the center of the sarcomere.
Glycolysis and aerobic respiration generate the ATP needed to sustain muscle contraction.
Slide 59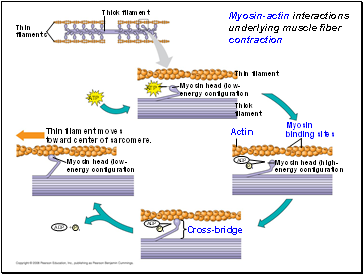 Myosin-actin interactions underlying muscle fiber contraction
Thin filaments
ATP
Myosin head (low- energy configuration
Thick filament
Thin filament
Thick filament
Actin
Myosin head (high- energy configuration
Myosin binding sites
ADP
P i
Cross-bridge
ADP
P i
Myosin head (low- energy configuration
Thin filament moves toward center of sarcomere.
ATP
ADP
P i
+
Slide 60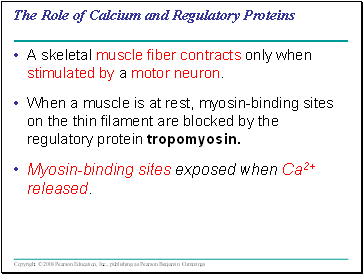 The Role of Calcium and Regulatory Proteins
A skeletal muscle fiber contracts only when stimulated by a motor neuron.
When a muscle is at rest, myosin-binding sites on the thin filament are blocked by the regulatory protein tropomyosin.
Myosin-binding sites exposed when Ca2+ released.
Slide 61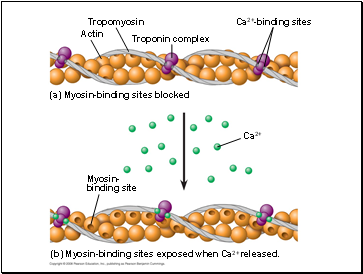 Myosin- binding site
Tropomyosin
(a) Myosin-binding sites blocked
(b) Myosin-binding sites exposed when Ca2+ released.
Ca2+
Ca2+-binding sites
Troponin complex
Actin
Slide 62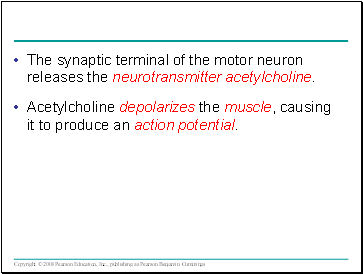 The synaptic terminal of the motor neuron releases the neurotransmitter acetylcholine.
Acetylcholine depolarizes the muscle, causing it to produce an action potential.
Slide 63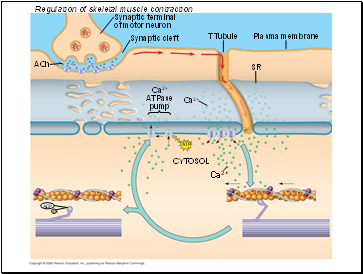 Regulation of skeletal muscle contraction