Sensory and Motor Mechanisms
Page
7
Each rod or cone contains visual pigments consisting of a light-absorbing molecule called retinal bonded to a protein called an opsin.
Rods contain the pigment rhodopsin (retinal combined with a specific opsin), which changes shape when absorbing light.
Once light activates rhodopsin, cyclic GMP breaks down, and Na+ channels close.
This hyperpolarizes the cell.
Slide 48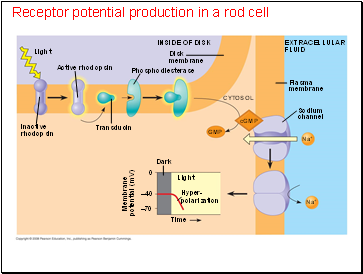 Receptor potential production in a rod cell
Light
Sodium channel
Inactive rhodopsin
Active rhodopsin
Phosphodiesterase
Disk membrane
INSIDE OF DISK
Plasma membrane
EXTRACELLULAR FLUID
Light
Transducin
CYTOSOL
GMP
cGMP
Na+
Na+
Dark
Time
Hyper- polarization
0
Membrane potential (mV)
–40
–70
Slide 49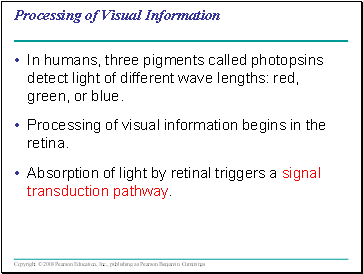 Processing of Visual Information
In humans, three pigments called photopsins detect light of different wave lengths: red, green, or blue.
Processing of visual information begins in the retina.
Absorption of light by retinal triggers a signal transduction pathway.
Slide 50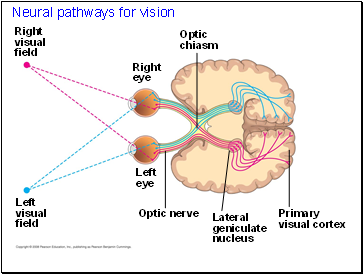 Neural pathways for vision
Right visual field
Right eye
Left visual field
Left eye
Optic chiasm
Primary visual cortex
Lateral geniculate nucleus
Optic nerve
Slide 51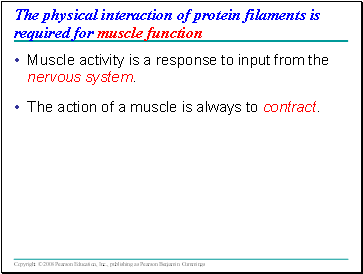 The physical interaction of protein filaments is required for muscle function
Muscle activity is a response to input from the nervous system.
The action of a muscle is always to contract.
Slide 52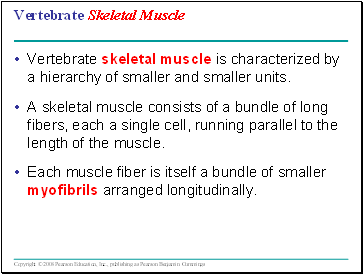 Vertebrate Skeletal Muscle
Vertebrate skeletal muscle is characterized by a hierarchy of smaller and smaller units.
A skeletal muscle consists of a bundle of long fibers, each a single cell, running parallel to the length of the muscle.
Each muscle fiber is itself a bundle of smaller myofibrils arranged longitudinally.
Slide 53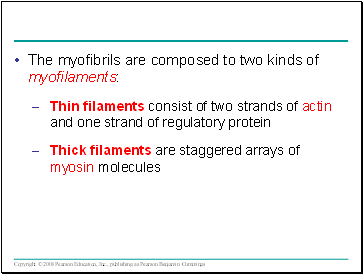 The myofibrils are composed to two kinds of myofilaments:
Thin filaments consist of two strands of actin and one strand of regulatory protein
Thick filaments are staggered arrays of myosin molecules
Slide 54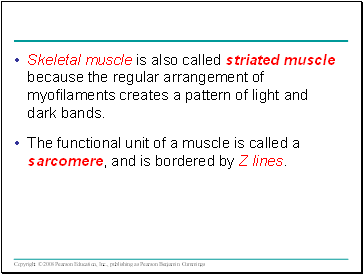 Skeletal muscle is also called striated muscle because the regular arrangement of myofilaments creates a pattern of light and dark bands.
The functional unit of a muscle is called a sarcomere, and is bordered by Z lines.
Slide 55