Sensory and Motor Mechanisms
Page
2
Stimuli from different sensory receptors travel as action potentials along different neural pathways.
The brain distinguishes stimuli from different receptors by the area in the brain where the action potentials arrive.
Slide 10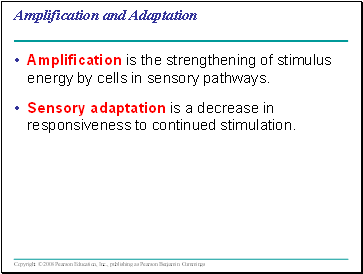 Amplification and Adaptation
Amplification is the strengthening of stimulus energy by cells in sensory pathways.
Sensory adaptation is a decrease in responsiveness to continued stimulation.
Slide 11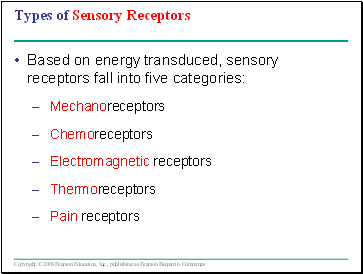 Types of Sensory Receptors
Based on energy transduced, sensory receptors fall into five categories:
Mechanoreceptors
Chemoreceptors
Electromagnetic receptors
Thermoreceptors
Pain receptors
Slide 12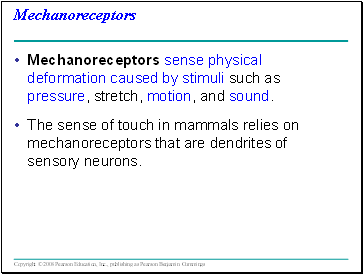 Mechanoreceptors
Mechanoreceptors sense physical deformation caused by stimuli such as pressure, stretch, motion, and sound.
The sense of touch in mammals relies on mechanoreceptors that are dendrites of sensory neurons.
Slide 13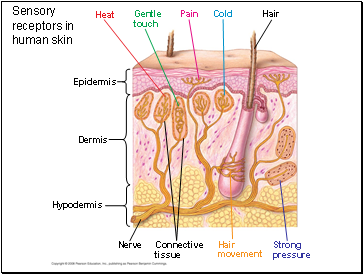 Sensory receptors in human skin
Connective tissue
Heat
Strong pressure
Hair movement
Nerve
Dermis
Epidermis
Hypodermis
Gentle touch
Pain
Cold
Hair
Slide 14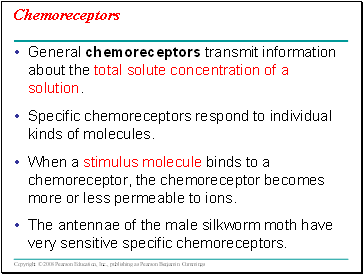 Chemoreceptors
General chemoreceptors transmit information about the total solute concentration of a solution.
Specific chemoreceptors respond to individual kinds of molecules.
When a stimulus molecule binds to a chemoreceptor, the chemoreceptor becomes more or less permeable to ions.
The antennae of the male silkworm moth have very sensitive specific chemoreceptors.
Slide 15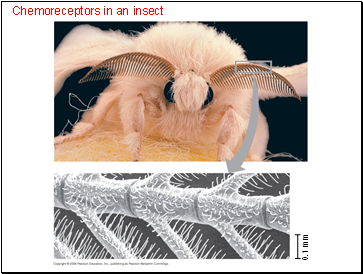 Chemoreceptors in an insect
0.1 mm
Slide 16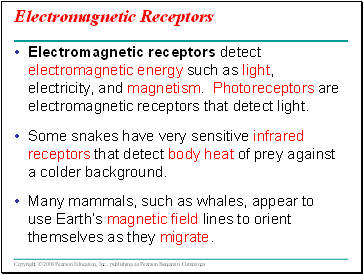 Electromagnetic Receptors
Electromagnetic receptors detect electromagnetic energy such as light, electricity, and magnetism. Photoreceptors are electromagnetic receptors that detect light.
Some snakes have very sensitive infrared receptors that detect body heat of prey against a colder background.
Many mammals, such as whales, appear to use Earth's magnetic field lines to orient themselves as they migrate.
Slide 17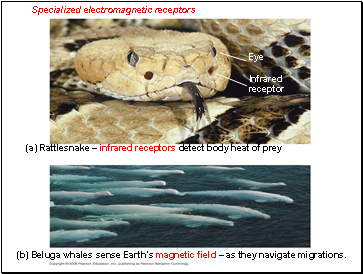 Specialized electromagnetic receptors
(a) Rattlesnake – infrared receptors detect body heat of prey
(b) Beluga whales sense Earth's magnetic field – as they navigate migrations.
Eye
Infrared receptor
Slide 18