Solution Stoichiometry
Page
2
Hydrochloric acid solution
Lactic acid solution
Ethyl alcohol solution
Pure sodium chloride
Try to classify the following substances as electrolytes or nonelectrolytes…
Slide 11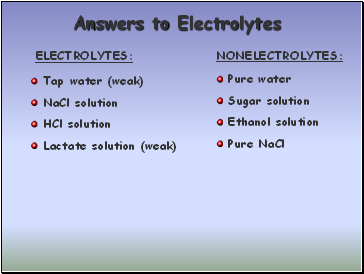 Answers to Electrolytes
ELECTROLYTES:
NONELECTROLYTES:
Tap water (weak)
NaCl solution
HCl solution
Lactate solution (weak)
Pure water
Sugar solution
Ethanol solution
Pure NaCl
Slide 12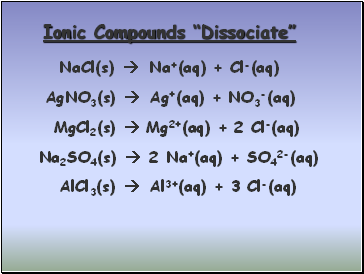 Ionic Compounds "Dissociate"
NaCl(s) 
AgNO3(s) 
MgCl2(s) 
Na2SO4(s) 
AlCl3(s) 
Na+(aq) + Cl-(aq)
Ag+(aq) + NO3-(aq)
Mg2+(aq) + 2 Cl-(aq)
2 Na+(aq) + SO42-(aq)
Al3+(aq) + 3 Cl-(aq)
Slide 13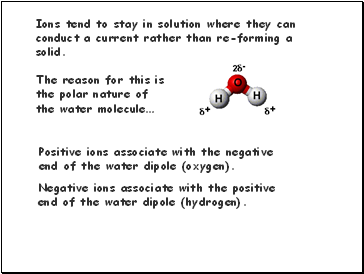 The reason for this is the polar nature of
the water molecule…
Positive ions associate with the negative
end of the water dipole (oxygen).
Negative ions associate with the positive
end of the water dipole (hydrogen). Ions tend to stay in solution where they can conduct a current rather than re-forming a solid.
Slide 14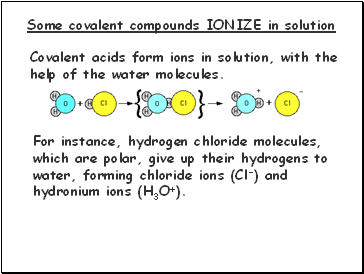 Some covalent compounds IONIZE in solution
Covalent acids form ions in solution, with the
help of the water molecules.
For instance, hydrogen chloride molecules,
which are polar, give up their hydrogens to
water, forming chloride ions (Cl-) and
hydronium ions (H3O+).
Slide 15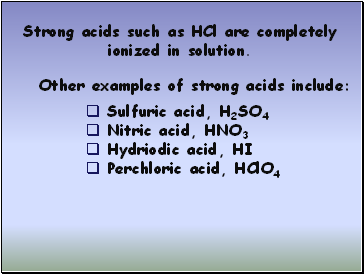 Other examples of strong acids include:
Sulfuric acid, H2SO4
Nitric acid, HNO3
Hydriodic acid, HI
Perchloric acid, HClO4 Strong acids such as HCl are completely ionized in solution.
Slide 16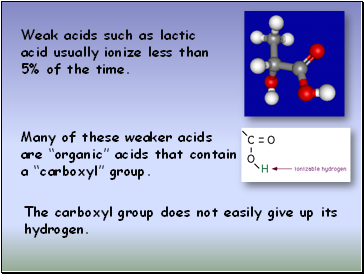 Many of these weaker acids
are "organic" acids that contain a "carboxyl" group.
The carboxyl group does not easily give up its
hydrogen.
Weak acids such as lactic acid usually ionize less than 5% of the time.
Slide 17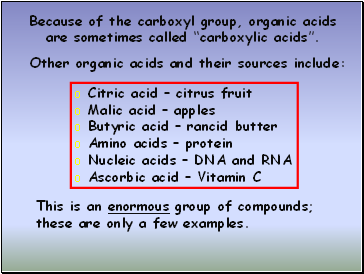 Other organic acids and their sources include:
Citric acid – citrus fruit
Malic acid – apples
Butyric acid – rancid butter
Amino acids – protein
Nucleic acids – DNA and RNA
Ascorbic acid – Vitamin C
This is an enormous group of compounds;
these are only a few examples. Because of the carboxyl group, organic acids are sometimes called "carboxylic acids".