Transition elements
Page
2
Slide 10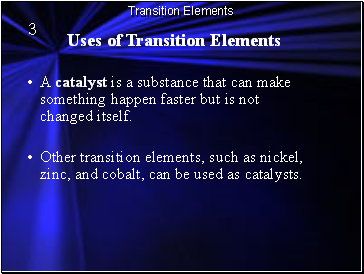 Uses of Transition Elements
A catalyst is a substance that can make something happen faster but is not changed itself.
Transition Elements
3
Other transition elements, such as nickel, zinc, and cobalt, can be used as catalysts.
Slide 11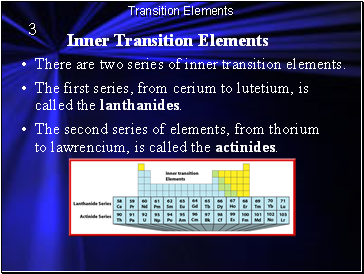 Inner Transition Elements
There are two series of inner transition elements.
Transition Elements
3
The first series, from cerium to lutetium, is called the lanthanides.
The second series of elements, from thorium to lawrencium, is called the actinides.
Slide 12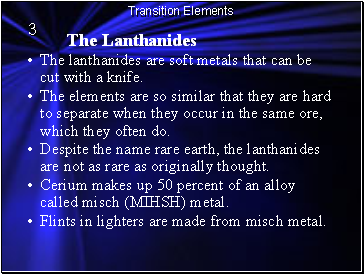 The Lanthanides
The lanthanides are soft metals that can be cut with a knife.
Transition Elements
3
The elements are so similar that they are hard to separate when they occur in the same ore, which they often do.
Despite the name rare earth, the lanthanides are not as rare as originally thought.
Cerium makes up 50 percent of an alloy called misch (MIHSH) metal.
Flints in lighters are made from misch metal.
Slide 13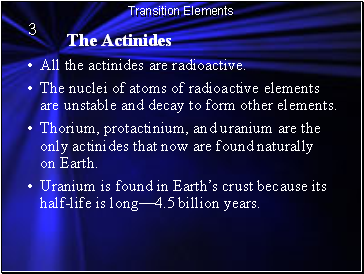 The Actinides
All the actinides are radioactive.
Transition Elements
3
The nuclei of atoms of radioactive elements are unstable and decay to form other elements.
Thorium, protactinium, and uranium are the only actinides that now are found naturally on Earth.
Uranium is found in Earth's crust because its half-life is long—4.5 billion years.
Slide 14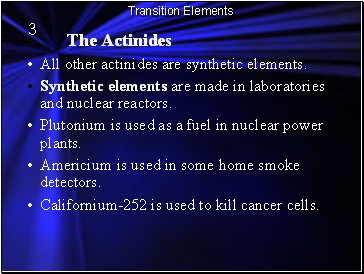 The Actinides
All other actinides are synthetic elements.
Transition Elements
3
Synthetic elements are made in laboratories and nuclear reactors.
Plutonium is used as a fuel in nuclear power plants.
Americium is used in some home smoke detectors.
Californium-252 is used to kill cancer cells.
Slide 15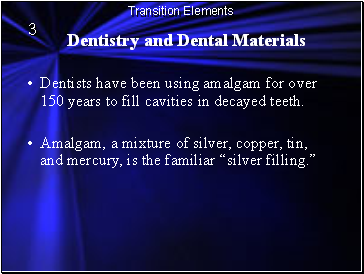 Dentistry and Dental Materials
Dentists have been using amalgam for over 150 years to fill cavities in decayed teeth.
Transition Elements
3
Amalgam, a mixture of silver, copper, tin, and mercury, is the familiar "silver filling."
Slide 16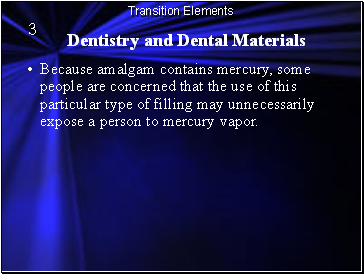 Dentistry and Dental Materials
Because amalgam contains mercury, some people are concerned that the use of this particular type of filling may unnecessarily expose a person to mercury vapor.
Transition Elements
3
Slide 17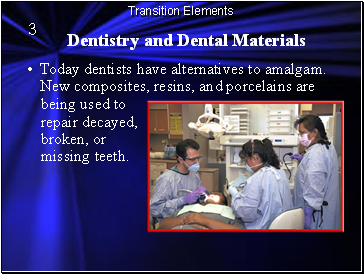 Dentistry and Dental Materials