Space - The Final Frontier
Page
3
Slide 21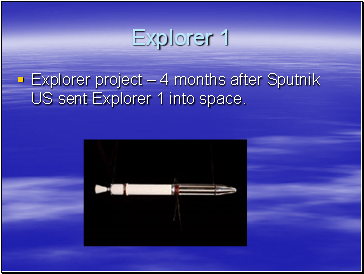 Explorer 1
Explorer project – 4 months after Sputnik US sent Explorer 1 into space.
Slide 22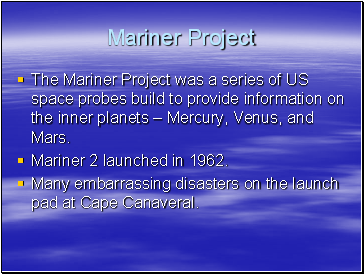 Mariner Project
The Mariner Project was a series of US space probes build to provide information on the inner planets – Mercury, Venus, and Mars.
Mariner 2 launched in 1962.
Many embarrassing disasters on the launch pad at Cape Canaveral.
Slide 23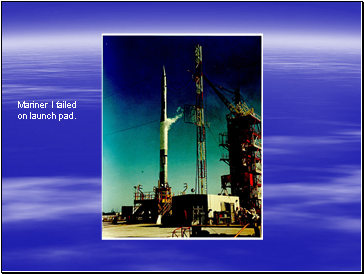 Slide 24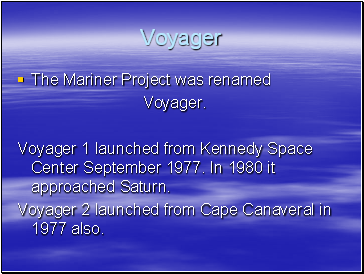 Voyager
The Mariner Project was renamed
Voyager.
Voyager 1 launched from Kennedy Space Center September 1977. In 1980 it approached Saturn.
Voyager 2 launched from Cape Canaveral in 1977 also.
Slide 25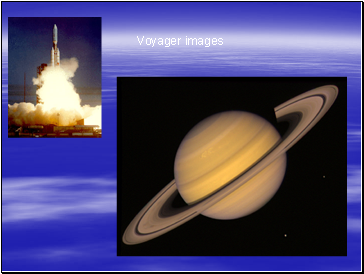 Slide 26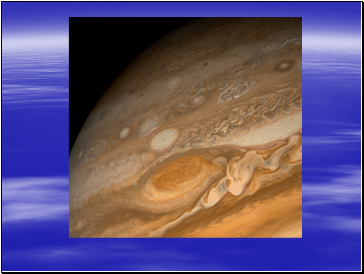 Slide 27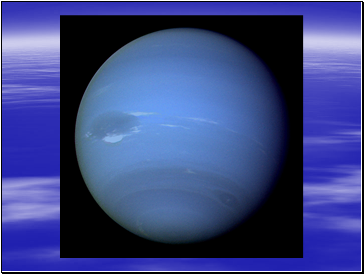 Slide 28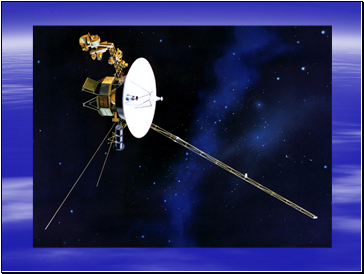 Slide 29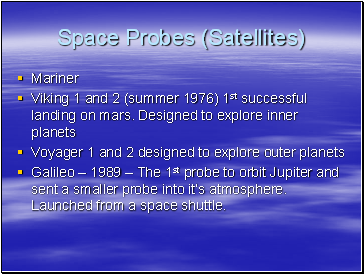 Space Probes (Satellites)
Mariner
Viking 1 and 2 (summer 1976) 1st successful landing on mars. Designed to explore inner planets
Voyager 1 and 2 designed to explore outer planets
Galileo – 1989 – The 1st probe to orbit Jupiter and sent a smaller probe into it's atmosphere. Launched from a space shuttle.
Slide 30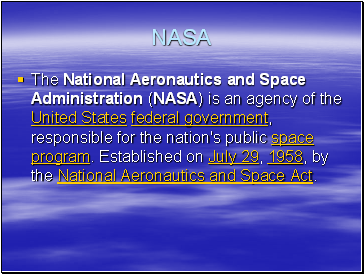 NASA
The National Aeronautics and Space Administration (NASA) is an agency of the United States federal government, responsible for the nation's public space program. Established on July 29, 1958, by the National Aeronautics and Space Act.
Slide 31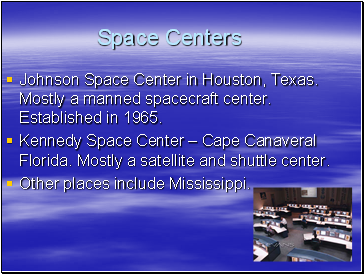 Space Centers
Johnson Space Center in Houston, Texas. Mostly a manned spacecraft center. Established in 1965.
Kennedy Space Center – Cape Canaveral Florida. Mostly a satellite and shuttle center.
Other places include Mississippi.
Slide 32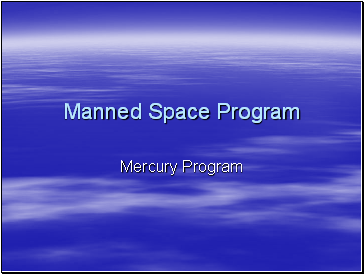 Manned Space Program
Mercury Program
Slide 33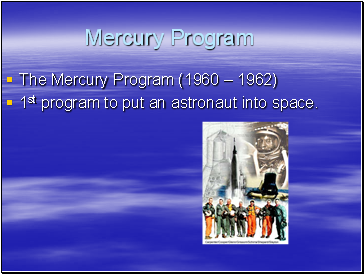 Mercury Program
The Mercury Program (1960 – 1962)
1st program to put an astronaut into space.
Slide 34