How to Write Good Essays
Page
2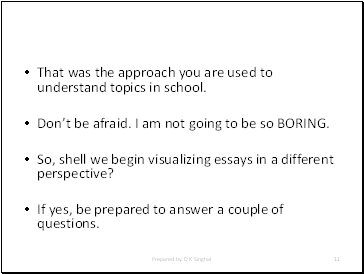 That was the approach you are used to understand topics in school.
Don't be afraid. I am not going to be so BORING.
So, shell we begin visualizing essays in a different perspective?
If yes, be prepared to answer a couple of questions.
Prepared by: D K Singhal
11
Slide 12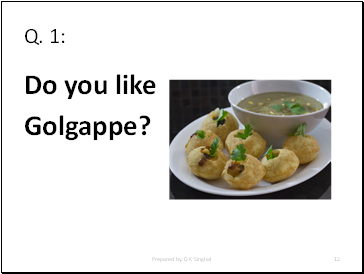 Q. 1:
Do you like
Golgappe?
Prepared by: D K Singhal
12
Slide 13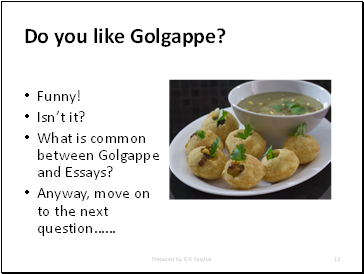 Do you like Golgappe?
Funny!
Isn't it?
What is common between Golgappe and Essays?
Anyway, move on to the next question……
Prepared by: D K Singhal
13
Slide 14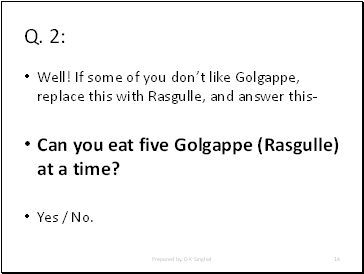 Q. 2:
Well! If some of you don't like Golgappe, replace this with Rasgulle, and answer this-
Can you eat five Golgappe (Rasgulle) at a time?
Yes / No.
Prepared by: D K Singhal
14
Slide 15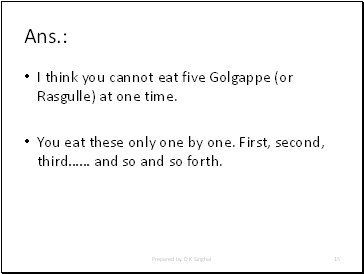 Ans.:
I think you cannot eat five Golgappe (or Rasgulle) at one time.
You eat these only one by one. First, second, third…… and so and so forth.
Prepared by: D K Singhal
15
Slide 16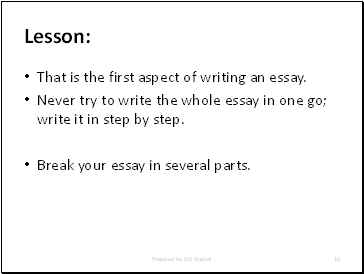 Lesson:
That is the first aspect of writing an essay.
Never try to write the whole essay in one go; write it in step by step.
Break your essay in several parts.
Prepared by: D K Singhal
16
Slide 17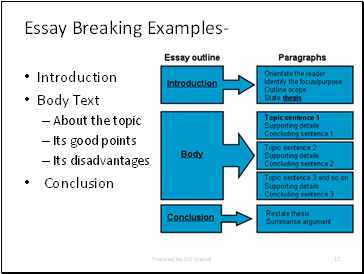 Essay Breaking Examples-
Introduction
Body Text
About the topic
Its good points
Its disadvantages
Conclusion
Prepared by: D K Singhal
17
Slide 18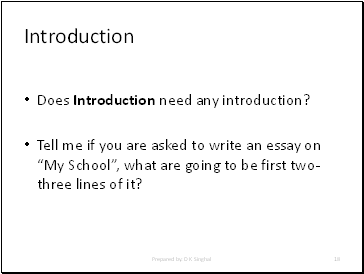 Introduction
Does Introduction need any introduction?
Tell me if you are asked to write an essay on "My School", what are going to be first two-three lines of it?
Prepared by: D K Singhal
18
Slide 19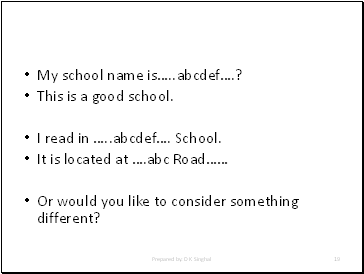 My school name is… abcdef….?
This is a good school.
I read in … abcdef…. School.
It is located at ….abc Road……
Or would you like to consider something different?
Prepared by: D K Singhal
19
Slide 20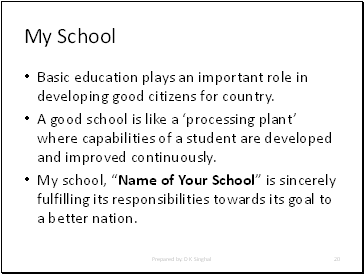 My School
Basic education plays an important role in developing good citizens for country.
A good school is like a 'processing plant' where capabilities of a student are developed and improved continuously.
My school, "Name of Your School" is sincerely fulfilling its responsibilities towards its goal to a better nation.