How to Write Good Essays
Page
1
Slide 1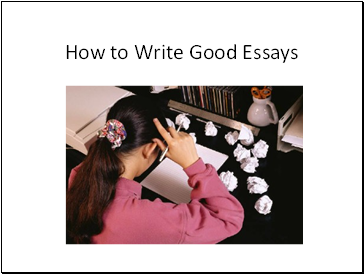 How to Write Good Essays
Slide 2
Prepared by: D K Singhal
2
Slide 3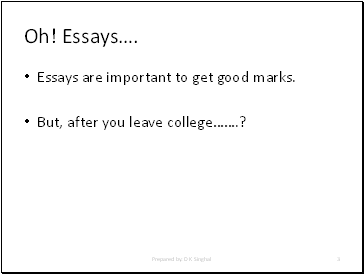 Oh! Essays….
Essays are important to get good marks.
But, after you leave college…….?
Prepared by: D K Singhal
3
Slide 4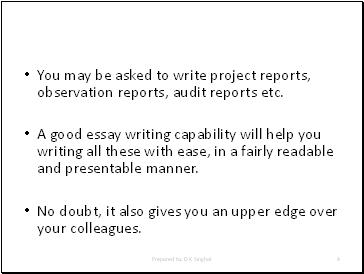 You may be asked to write project reports, observation reports, audit reports etc.
A good essay writing capability will help you writing all these with ease, in a fairly readable and presentable manner.
No doubt, it also gives you an upper edge over your colleagues.
Prepared by: D K Singhal
4
Slide 5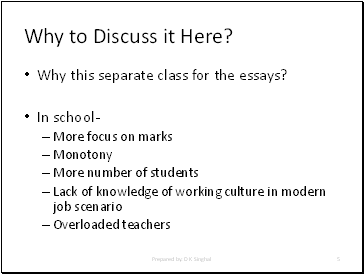 Why to Discuss it Here?
Why this separate class for the essays?
In school-
More focus on marks
Monotony
More number of students
Lack of knowledge of working culture in modern job scenario
Overloaded teachers
Prepared by: D K Singhal
5
Slide 6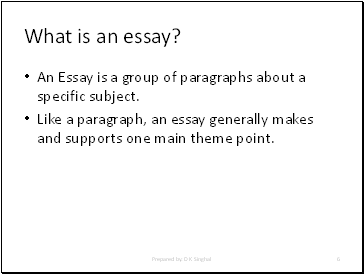 What is an essay?
An Essay is a group of paragraphs about a specific subject.
Like a paragraph, an essay generally makes and supports one main theme point.
Prepared by: D K Singhal
6
Slide 7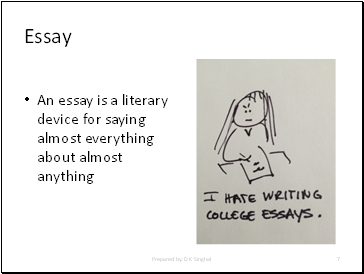 Essay
An essay is a literary device for saying almost everything about almost anything
Prepared by: D K Singhal
7
Slide 8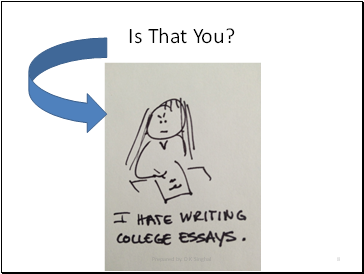 Is That You?
Prepared by: D K Singhal
8
Slide 9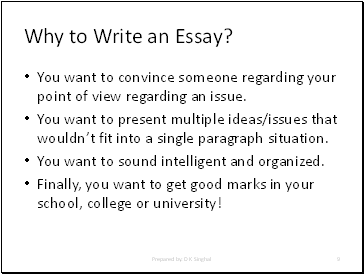 Why to Write an Essay?
You want to convince someone regarding your point of view regarding an issue.
You want to present multiple ideas/issues that wouldn't fit into a single paragraph situation.
You want to sound intelligent and organized.
Finally, you want to get good marks in your school, college or university!
Prepared by: D K Singhal
9
Slide 10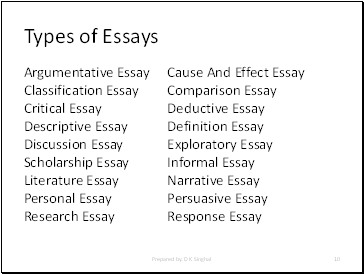 Types of Essays
Argumentative Essay Cause And Effect Essay
Classification Essay Comparison Essay
Critical Essay Deductive Essay
Descriptive Essay Definition Essay
Discussion Essay Exploratory Essay
Scholarship Essay Informal Essay
Literature Essay Narrative Essay
Personal Essay Persuasive Essay
Research Essay Response Essay
Prepared by: D K Singhal
10
Slide 11