How to Write Good Essays
Page
7
Prepared by: D K Singhal
50
Slide 51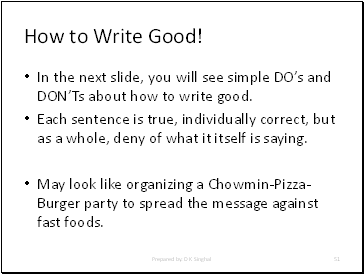 How to Write Good!
In the next slide, you will see simple DO's and DON'Ts about how to write good.
Each sentence is true, individually correct, but as a whole, deny of what it itself is saying.
May look like organizing a Chowmin-Pizza-Burger party to spread the message against fast foods.
Prepared by: D K Singhal
51
Slide 52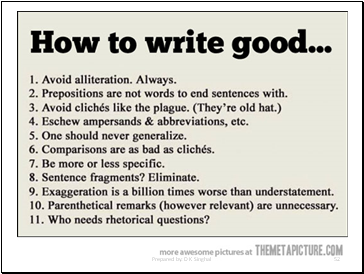 Prepared by: D K Singhal
52
Slide 53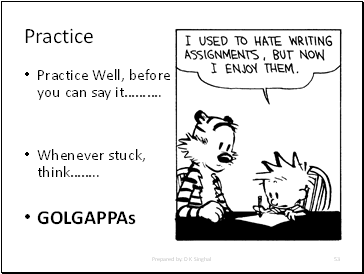 Practice
Practice Well, before you can say it……….
Whenever stuck, think……
GOLGAPPAs
Prepared by: D K Singhal
53
Slide 54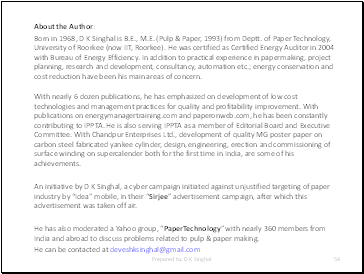 About the Author:
Born in 1968, D K Singhal is B.E., M.E. (Pulp & Paper, 1993) from Deptt. of Paper Technology, University of Roorkee (now IIT, Roorkee). He was certified as Certified Energy Auditor in 2004 with Bureau of Energy Efficiency. In addition to practical experience in papermaking, project planning, research and development, consultancy, automation etc.; energy conservation and cost reduction have been his main areas of concern.
With nearly 6 dozen publications, he has emphasized on development of low cost technologies and management practices for quality and profitability improvement. With publications on energymanagertraining.com and paperonweb.com, he has been constantly contributing to IPPTA. He is also serving IPPTA as a member of Editorial Board and Executive Committee. With Chandpur Enterprises Ltd., development of quality MG poster paper on carbon steel fabricated yankee cylinder, design, engineering, erection and commissioning of surface winding on supercalender both for the first time in India, are some of his achievements.
An initiative by D K Singhal, a cyber campaign initiated against unjustified targeting of paper industry by "Idea" mobile, in their "Sirjee" advertisement campaign, after which this advertisement was taken off air.
He has also moderated a Yahoo group, "PaperTechnology" with nearly 360 members from India and abroad to discuss problems related to pulp & paper making.
He can be contacted at deveshksinghal@gmail.com
Prepared by: D K Singhal
54