Deforestation & Conservation Efforts
Page
1
Slide 1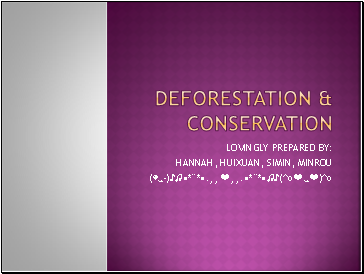 Deforestation & CONSERVATION
LOVINGLY PREPARED BY:
HANNAH, HUIXUAN, SIMIN, MINROU
Slide 2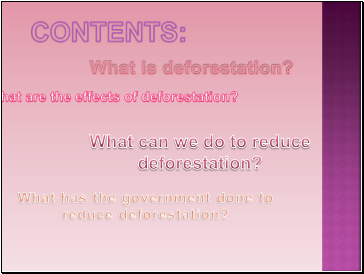 Contents:
What is deforestation?
What are the effects of deforestation?
What can we do to reduce deforestation?
What has the government done to reduce deforestation?
Slide 3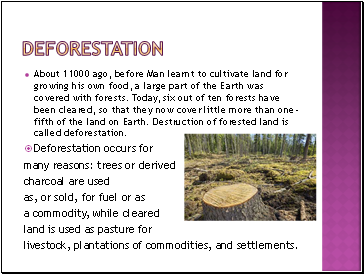 Deforestation
About 11000 ago, before Man learnt to cultivate land for growing his own food, a large part of the Earth was covered with forests. Today, six out of ten forests have been cleared, so that they now cover little more than one-fifth of the land on Earth. Destruction of forested land is called deforestation.
Deforestation occurs for
many reasons: trees or derived
charcoal are used
as, or sold, for fuel or as
a commodity, while cleared
land is used as pasture for
livestock, plantations of commodities, and settlements.
Slide 4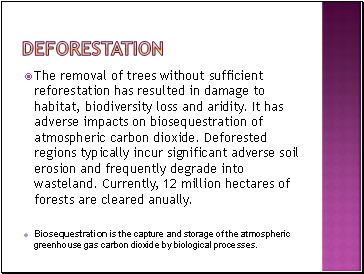 deforestation
The removal of trees without sufficient reforestation has resulted in damage to habitat, biodiversity loss and aridity. It has adverse impacts on biosequestration of atmospheric carbon dioxide. Deforested regions typically incur significant adverse soil erosion and frequently degrade into wasteland. Currently, 12 million hectares of forests are cleared anually.
Biosequestration is the capture and storage of the atmospheric greenhouse gas carbon dioxide by biological processes.
Slide 5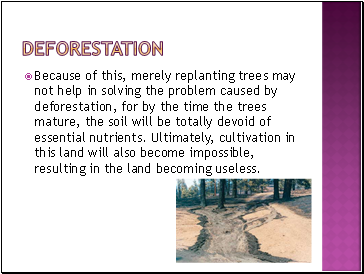 deforestation
Because of this, merely replanting trees may not help in solving the problem caused by deforestation, for by the time the trees mature, the soil will be totally devoid of essential nutrients. Ultimately, cultivation in this land will also become impossible, resulting in the land becoming useless.
Slide 6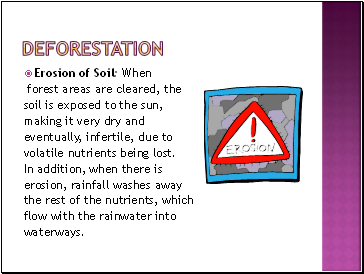 deforestation
Erosion of Soil: When
forest areas are cleared, the
soil is exposed to the sun,
making it very dry and
eventually, infertile, due to
volatile nutrients being lost.
In addition, when there is
erosion, rainfall washes away
the rest of the nutrients, which
flow with the rainwater into
waterways.
Slide 7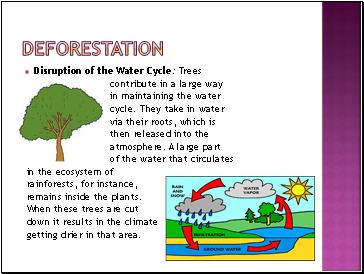 deforestation
Disruption of the Water Cycle: Trees
contribute in a large way
in maintaining the water
cycle. They take in water
via their roots, which is
then released into the
atmosphere. A large part
of the water that circulates