Magellan and Coronado
Page
2
9. He was the first man to cross all four what? Meridians.
10. How many men survived the trip? 17
Slide 11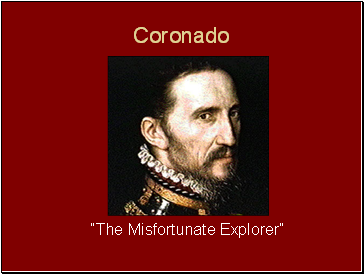 Coronado
"The Misfortunate Explorer"
Slide 12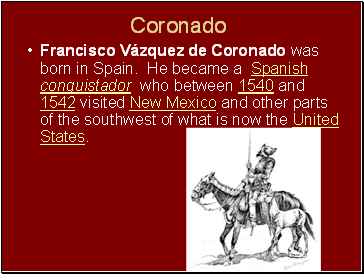 Francisco Vázquez de Coronado was born in Spain. He became a Spanish conquistador who between 1540 and 1542 visited New Mexico and other parts of the southwest of what is now the United States.
Coronado
Slide 13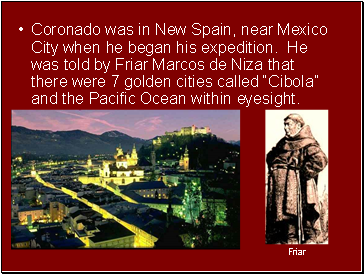 Coronado was in New Spain, near Mexico City when he began his expedition. He was told by Friar Marcos de Niza that there were 7 golden cities called "Cibola" and the Pacific Ocean within eyesight.
Friar
Slide 14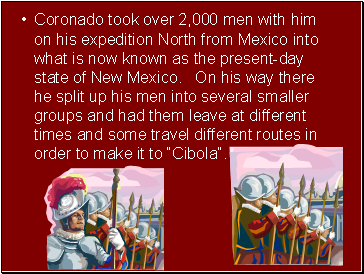 Coronado took over 2,000 men with him on his expedition North from Mexico into what is now known as the present-day state of New Mexico. On his way there he split up his men into several smaller groups and had them leave at different times and some travel different routes in order to make it to "Cibola".
Slide 15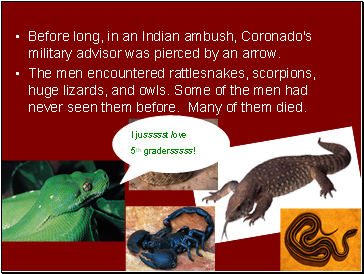 Before long, in an Indian ambush, Coronado's military advisor was pierced by an arrow.
The men encountered rattlesnakes, scorpions, huge lizards, and owls. Some of the men had never seen them before. Many of them died.
Slide 16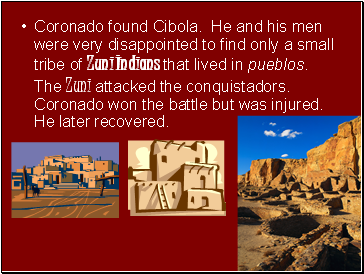 Coronado found Cibola. He and his men were very disappointed to find only a small tribe of Zuni Indians that lived in pueblos. The Zuni attacked the conquistadors. Coronado won the battle but was injured. He later recovered.
Slide 17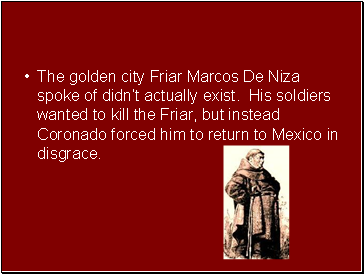 The golden city Friar Marcos De Niza spoke of didn't actually exist. His soldiers wanted to kill the Friar, but instead Coronado forced him to return to Mexico in disgrace.
Slide 18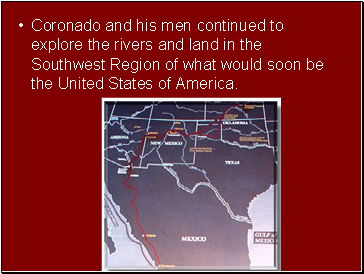 Coronado and his men continued to explore the rivers and land in the Southwest Region of what would soon be the United States of America.
Slide 19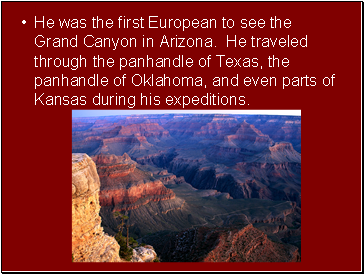 He was the first European to see the Grand Canyon in Arizona. He traveled through the panhandle of Texas, the panhandle of Oklahoma, and even parts of Kansas during his expeditions.
Slide 20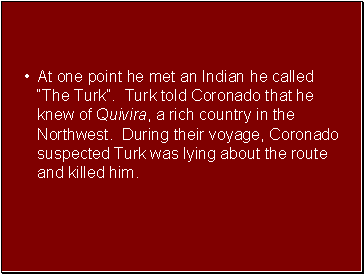 At one point he met an Indian he called "The Turk". Turk told Coronado that he knew of Quivira, a rich country in the Northwest. During their voyage, Coronado suspected Turk was lying about the route and killed him.