Emergence of the animal kingdom
Page
1
Slide 1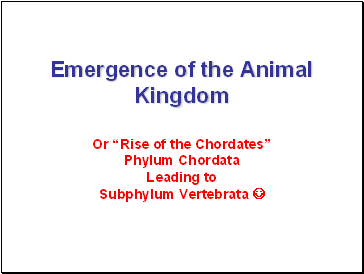 Emergence of the Animal Kingdom
Or "Rise of the Chordates"
Phylum Chordata
Leading to
Subphylum Vertebrata 
Slide 2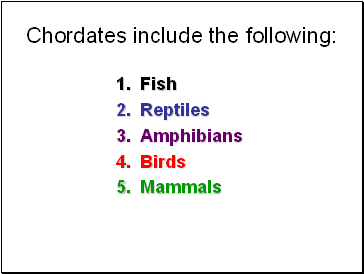 Chordates include the following:
Fish
Reptiles
Amphibians
Birds
Mammals
Slide 3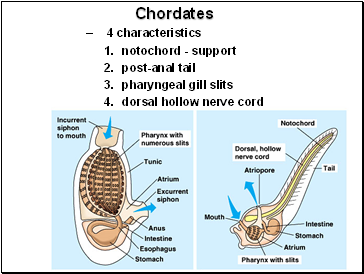 Chordates
4 characteristics
notochord - support
post-anal tail
pharyngeal gill slits
dorsal hollow nerve cord
Slide 4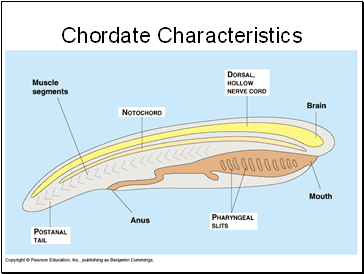 Chordate Characteristics
Slide 5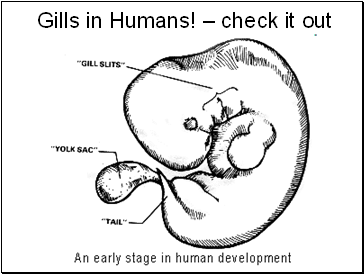 Gills in Humans! – check it out
Slide 6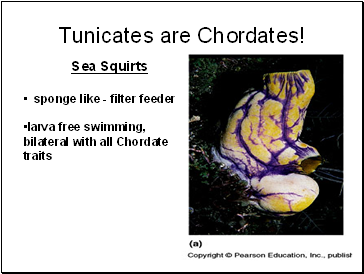 Tunicates are Chordates!
Sea Squirts
sponge like - filter feeder
larva free swimming, bilateral with all Chordate traits
Slide 7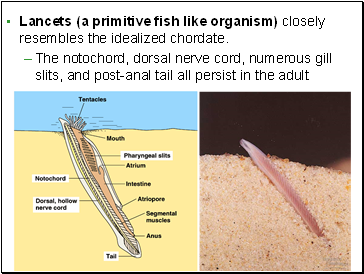 Lancets (a primitive fish like organism) closely resembles the idealized chordate.
The notochord, dorsal nerve cord, numerous gill slits, and post-anal tail all persist in the adult
Copyright © 2002 Pearson Education, Inc., publishing as Benjamin Cummings
Slide 8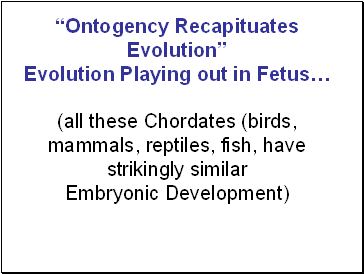 "Ontogency Recapituates Evolution" Evolution Playing out in Fetus… (all these Chordates (birds, mammals, reptiles, fish, have strikingly similar Embryonic Development)
Slide 9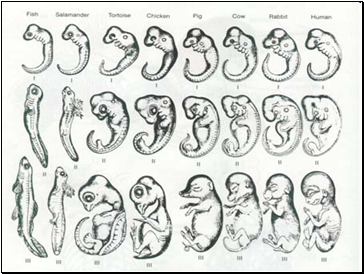 Slide 10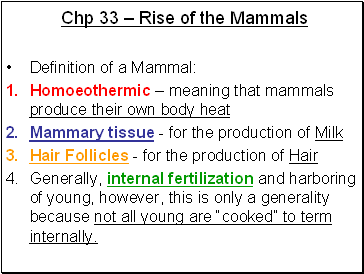 Chp 33 – Rise of the Mammals
Definition of a Mammal:
Homoeothermic – meaning that mammals produce their own body heat
Mammary tissue - for the production of Milk
Hair Follicles - for the production of Hair
Generally, internal fertilization and harboring of young, however, this is only a generality because not all young are "cooked" to term internally.
Slide 11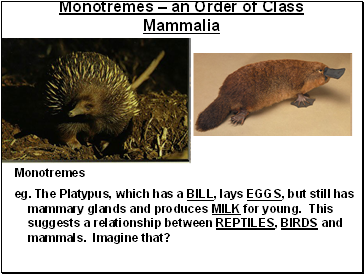 Monotremes – an Order of Class Mammalia
Monotremes
eg. The Platypus, which has a BILL, lays EGGS, but still has mammary glands and produces MILK for young. This suggests a relationship between REPTILES, BIRDS and mammals. Imagine that?
Slide 12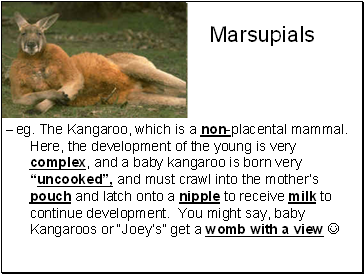 Marsupials
– eg. The Kangaroo, which is a non-placental mammal. Here, the development of the young is very complex, and a baby kangaroo is born very "uncooked", and must crawl into the mother's pouch and latch onto a nipple to receive milk to continue development. You might say, baby Kangaroos or "Joey's" get a womb with a view 