Earth's Atmosphere
Page
2
Sources of Stratospheric Chlorine
Slide 9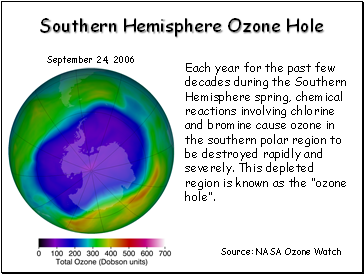 Southern Hemisphere Ozone Hole
September 24, 2006
Source: NASA Ozone Watch
Each year for the past few decades during the Southern Hemisphere spring, chemical reactions involving chlorine and bromine cause ozone in the southern polar region to be destroyed rapidly and severely. This depleted region is known as the "ozone hole".
Slide 10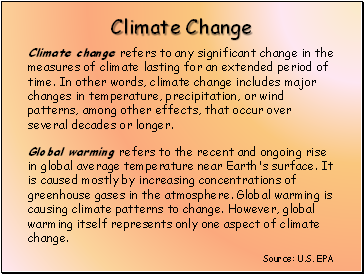 Climate Change
Climate change refers to any significant change in the measures of climate lasting for an extended period of time. In other words, climate change includes major changes in temperature, precipitation, or wind patterns, among other effects, that occur over several decades or longer.
Global warming refers to the recent and ongoing rise in global average temperature near Earth's surface. It is caused mostly by increasing concentrations of greenhouse gases in the atmosphere. Global warming is causing climate patterns to change. However, global warming itself represents only one aspect of climate change.
Source: U.S. EPA
Slide 11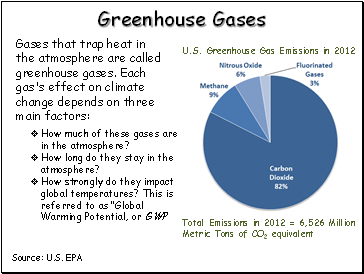 Greenhouse Gases
Gases that trap heat in the atmosphere are called greenhouse gases. Each gas's effect on climate change depends on three main factors:
U.S. Greenhouse Gas Emissions in 2012
Total Emissions in 2012 = 6,526 Million Metric Tons of CO2 equivalent
Source: U.S. EPA
How much of these gases are in the atmosphere?
How long do they stay in the atmosphere?
How strongly do they impact global temperatures? This is referred to as "Global Warming Potential, or GWP
Slide 12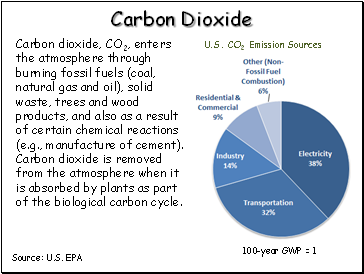 Carbon Dioxide
Carbon dioxide, CO2, enters the atmosphere through burning fossil fuels (coal, natural gas and oil), solid waste, trees and wood products, and also as a result of certain chemical reactions (e.g., manufacture of cement). Carbon dioxide is removed from the atmosphere when it is absorbed by plants as part of the biological carbon cycle.
U.S. CO2 Emission Sources
Source: U.S. EPA
100-year GWP = 1
Slide 13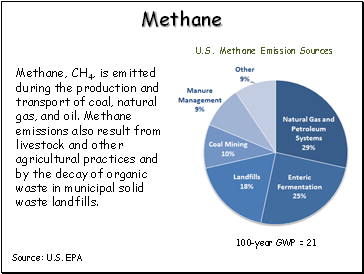 Methane
Methane, CH4, is emitted during the production and transport of coal, natural gas, and oil. Methane emissions also result from livestock and other agricultural practices and by the decay of organic waste in municipal solid waste landfills.
U.S. Methane Emission Sources
Source: U.S. EPA
100-year GWP = 21
Slide 14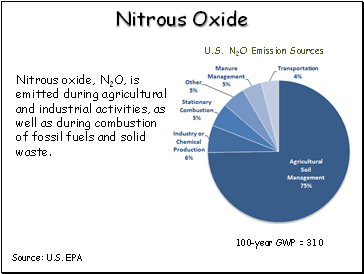 Nitrous Oxide
Nitrous oxide, N2O, is emitted during agricultural and industrial activities, as well as during combustion of fossil fuels and solid waste.