Cell membranes
Page
2
called NON-POLAR
Cell membranes are made of PHOSPHOLIPIDs
A Phospholipid
Slide 8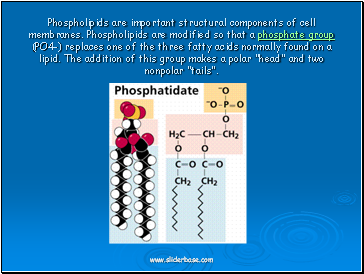 Phospholipids are important structural components of cell membranes. Phospholipids are modified so that a phosphate group (PO4-) replaces one of the three fatty acids normally found on a lipid. The addition of this group makes a polar "head" and two nonpolar "tails".
Slide 9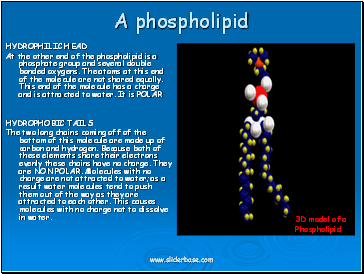 A phospholipid
HYDROPHILIC HEAD
At the other end of the phospholipid is a phosphate group and several double bonded oxygens. The atoms at this end of the molecule are not shared equally. This end of the molecule has a charge and is attracted to water. It is POLAR
HYDROPHOBIC TAILS
The two long chains coming off of the bottom of this molecule are made up of carbon and hydrogen. Because both of these elements share their electrons evenly these chains have no charge. They are NON POLAR. Molecules with no charge are not attracted to water; as a result water molecules tend to push them out of the way as they are attracted to each other. This causes molecules with no charge not to dissolve in water.
3D model of a Phospholipid
Slide 10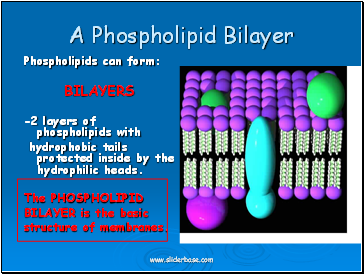 A Phospholipid Bilayer
Phospholipids can form:
BILAYERS
-2 layers of phospholipids with
hydrophobic tails protected inside by the hydrophilic heads.
The PHOSPHOLIPID
BILAYER is the basic
structure of membranes.
Slide 11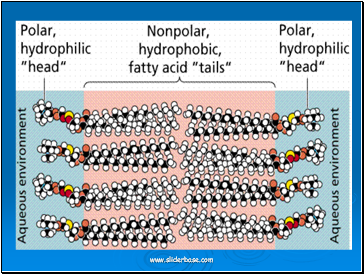 Slide 12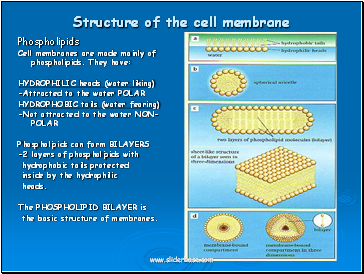 Structure of the cell membrane
Phospholipids
Cell membranes are made mainly of phospholipids. They have:
HYDROPHILIC heads (water liking)
-Attracted to the water POLAR
HYDROPHOBIC tails (water fearing)
-Not attracted to the water NON-POLAR
Phospholipids can form BILAYERS
-2 layers of phospholipids with
hydrophobic tails protected
inside by the hydrophilic
heads.
The PHOSPHOLIPID BILAYER is
the basic structure of membranes.
Slide 13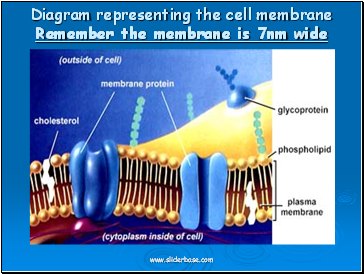 Diagram representing the cell membrane Remember the membrane is 7nm wide
Slide 14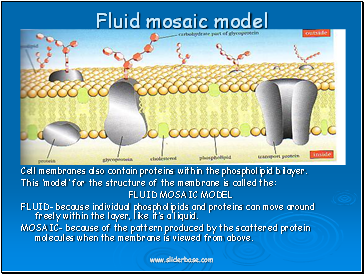 Fluid mosaic model
Cell membranes also contain proteins within the phospholipid bilayer.
This 'model' for the structure of the membrane is called the:
FLUID MOSAIC MODEL
FLUID- because individual phospholipids and proteins can move around freely within the layer, like it's a liquid.
MOSAIC- because of the pattern produced by the scattered protein molecules when the membrane is viewed from above.