Animal Reproduction PP Part 1
Page
2
Watching animals, paint, color change strips
Heat detection
Ways to detect heat
Slide 13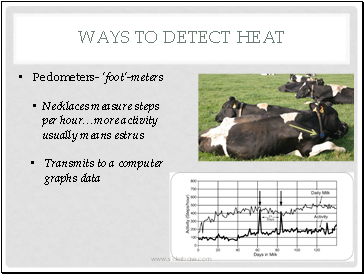 Pedometers- 'foot'-meters
Necklaces measure steps per hour…more activity usually means estrus
Transmits to a computer graphs data
Ways to detect heat
Slide 14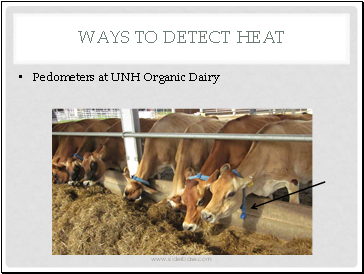 Pedometers at UNH Organic Dairy
Ways to detect heat
Slide 15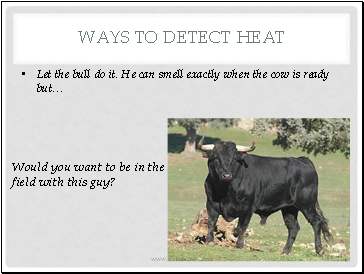 Let the bull do it. He can smell exactly when the cow is ready but…
Ways to detect heat
Would you want to be in the field with this guy?
Slide 16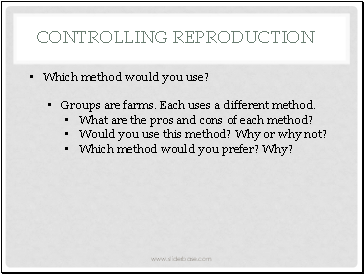 Controlling Reproduction
Which method would you use?
Groups are farms. Each uses a different method.
What are the pros and cons of each method?
Would you use this method? Why or why not?
Which method would you prefer? Why?
Slide 17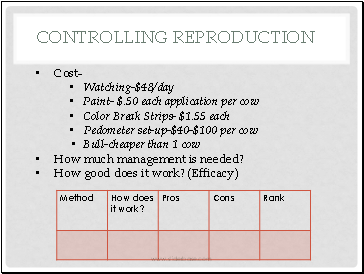 Controlling Reproduction
Cost
Watching-$48/day
Paint- $.50 each application per cow
Color Break Strips- $1.55 each
Pedometer set-up-$40-$100 per cow
Bull-cheaper than 1 cow
How much management is needed?
How good does it work? (Efficacy)
Slide 18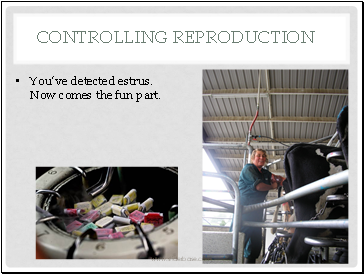 Controlling Reproduction
You've detected estrus. Now comes the fun part.
Slide 19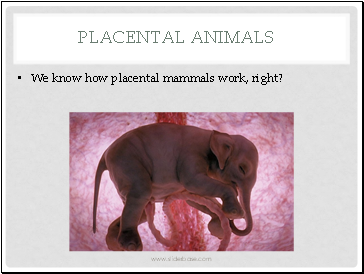 Placental Animals
We know how placental mammals work, right?
Slide 20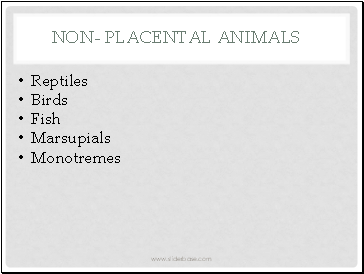 Non- Placental Animals
Reptiles
Birds
Fish
Marsupials
Monotremes
Slide 21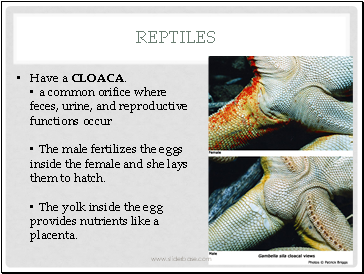 Reptiles
Have a CLOACA.
a common orifice where feces, urine, and reproductive functions occur
The male fertilizes the eggs inside the female and she lays them to hatch.
The yolk inside the egg provides nutrients like a placenta.
Slide 22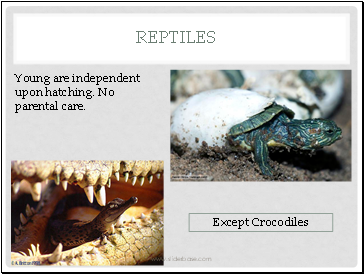 Reptiles
Young are independent upon hatching. No parental care.
Except Crocodiles
Slide 23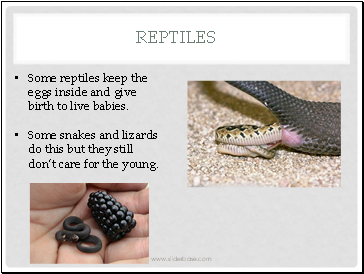 Reptiles
Some reptiles keep the eggs inside and give birth to live babies.
Some snakes and lizards do this but they still don't care for the young.
Slide 24
Birds