The Endocrine System
Page
2
Slide 10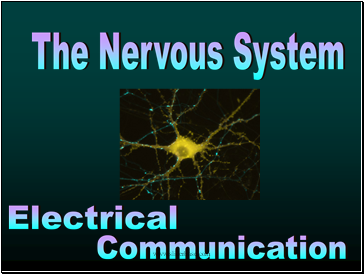 The Nervous System
Communication
Electrical
Slide 11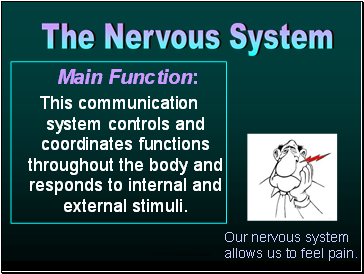 Main Function:
This communication system controls and coordinates functions throughout the body and responds to internal and external stimuli.
The Nervous System
Our nervous system allows us to feel pain.
Slide 12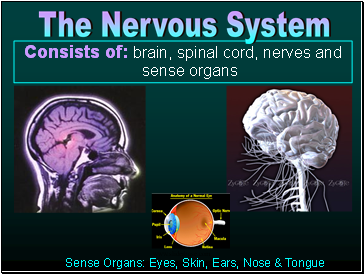 Consists of: brain, spinal cord, nerves and sense organs
The Nervous System
Sense Organs: Eyes, Skin, Ears, Nose & Tongue
Slide 13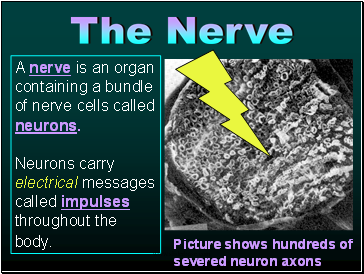 The Nerve
A nerve is an organ containing a bundle of nerve cells called neurons.
Neurons carry electrical messages called impulses throughout the body.
Picture shows hundreds of severed neuron axons
Slide 14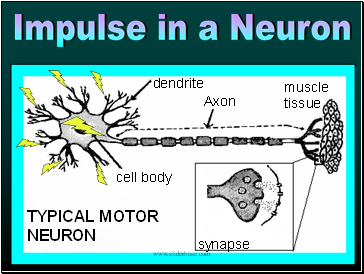 Impulse in a Neuron
cell
body
Slide 15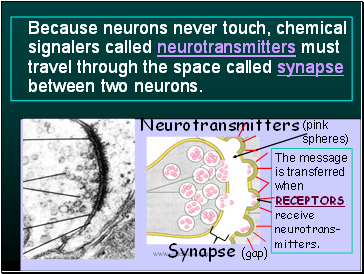 Because neurons never touch, chemical signalers called neurotransmitters must travel through the space called synapse between two neurons.
Neurotransmitters
Synapse (gap)
The message is transferred when RECEPTORS receive neurotrans-mitters.
(pink
spheres)
Slide 16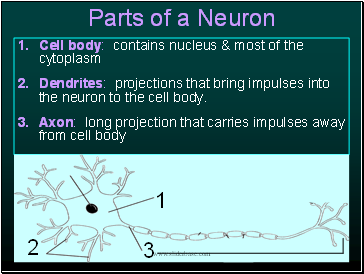 Parts of a Neuron
Cell body: contains nucleus & most of the cytoplasm
Dendrites: projections that bring impulses into the neuron to the cell body.
Axon: long projection that carries impulses away from cell body
Slide 17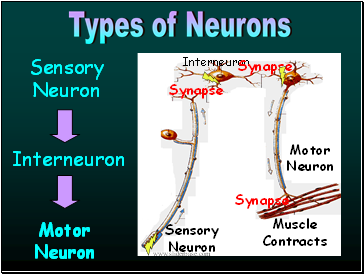 Sensory Neuron
Interneuron
Motor Neuron
Types of Neurons
Sensory Neuron
Interneuron
Motor Neuron
Muscle Contracts
Synapse
Synapse
Synapse
Slide 18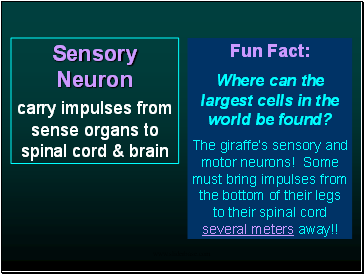 Sensory Neuron
carry impulses from sense organs to spinal cord & brain
Fun Fact:
Where can the largest cells in the world be found?
The giraffe's sensory and motor neurons! Some must bring impulses from the bottom of their legs to their spinal cord several meters away!!
Slide 19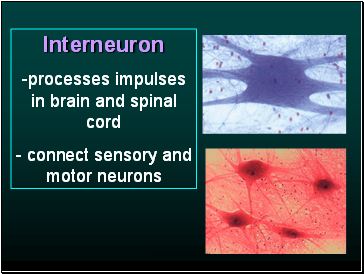 Interneuron
processes impulses in brain and spinal cord
- connect sensory and motor neurons
Slide 20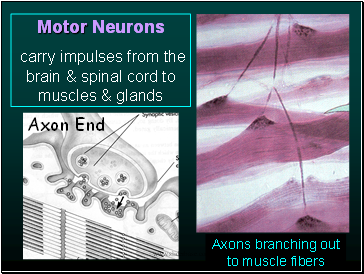 Motor Neurons
carry impulses from the brain & spinal cord to muscles & glands