Earth science
Page
1
Slide 1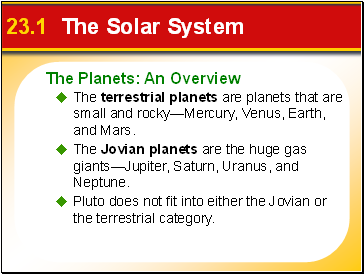 The Solar System
 The terrestrial planets are planets that are small and rocky—Mercury, Venus, Earth, and Mars.
 The Jovian planets are the huge gas giants—Jupiter, Saturn, Uranus, and Neptune.
 Pluto does not fit into either the Jovian or the terrestrial category.
Slide 2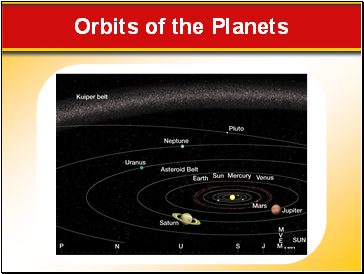 Orbits of the Planets
Slide 3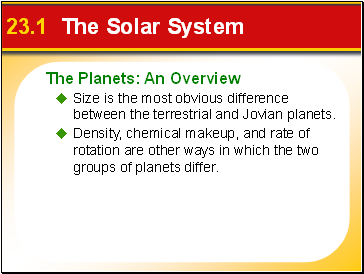 The Solar System
 Size is the most obvious difference between the terrestrial and Jovian planets.
 Density, chemical makeup, and rate of rotation are other ways in which the two groups of planets differ.
Slide 4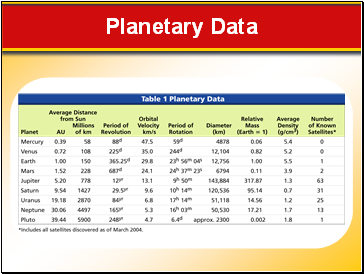 Planetary Data
Slide 5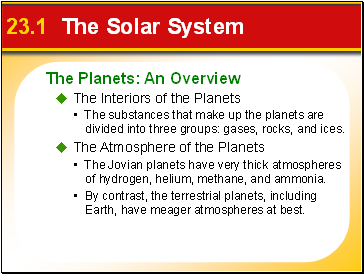 23.1 The Solar System
 The Interiors of the Planets
• The substances that make up the planets are divided into three groups: gases, rocks, and ices.
 The Atmosphere of the Planets
• The Jovian planets have very thick atmospheres of hydrogen, helium, methane, and ammonia.
• By contrast, the terrestrial planets, including Earth, have meager atmospheres at best.
Slide 6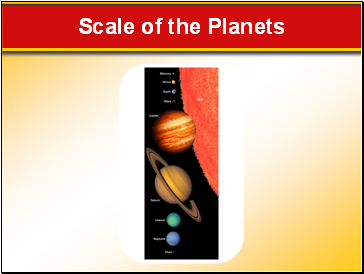 Scale of the Planets
Slide 7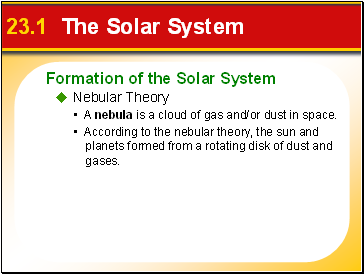 23.1 The Solar System
 Nebular Theory
• A nebula is a cloud of gas and/or dust in space.
• According to the nebular theory, the sun and planets formed from a rotating disk of dust and gases.
Slide 8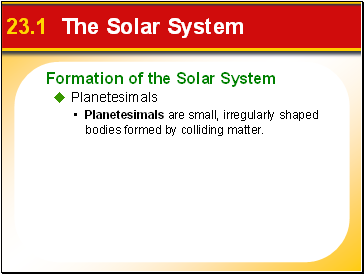 23.1 The Solar System
 Planetesimals
• Planetesimals are small, irregularly shaped bodies formed by colliding matter.
Slide 9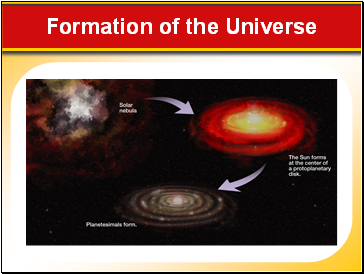 Formation of the Universe
Slide 10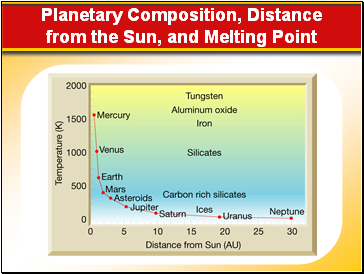 Planetary Composition, Distance from the Sun, and Melting Point
Slide 11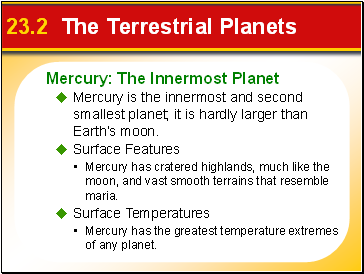 The Terrestrial Planets
 Mercury is the innermost and second smallest planet; it is hardly larger than Earth's moon.
• Mercury has cratered highlands, much like the moon, and vast smooth terrains that resemble maria.
• Mercury has the greatest temperature extremes of any planet.
 Surface Features
 Surface Temperatures
Slide 12