Jane Eyre
Page
4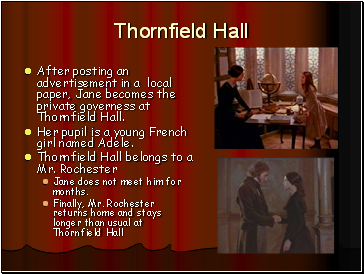 Thornfield Hall
After posting an advertisement in a local paper, Jane becomes the private governess at Thornfield Hall.
Her pupil is a young French girl named Adele.
Thornfield Hall belongs to a Mr. Rochester
Jane does not meet him for months.
Finally, Mr. Rochester returns home and stays longer than usual at Thornfield Hall
Slide 27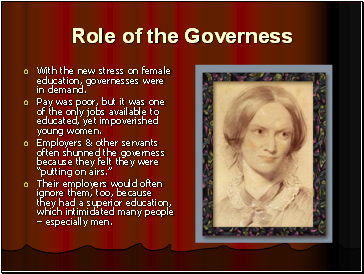 Role of the Governess
With the new stress on female education, governesses were in demand.
Pay was poor, but it was one of the only jobs available to educated, yet impoverished young women.
Employers & other servants often shunned the governess because they felt they were "putting on airs."
Their employers would often ignore them, too, because they had a superior education, which intimidated many people – especially men.
Slide 28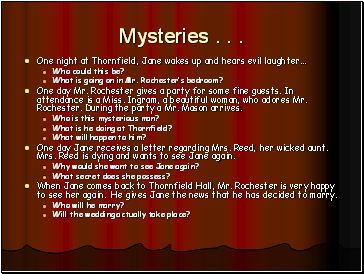 Mysteries . . .
One night at Thornfield, Jane wakes up and hears evil laughter .
Who could this be?
What is going on in Mr. Rochester's bedroom?
One day Mr. Rochester gives a party for some fine guests. In attendance is a Miss. Ingram, a beautiful woman, who adores Mr. Rochester. During the party a Mr. Mason arrives.
Who is this mysterious man?
What is he doing at Thornfield?
What will happen to him?
One day Jane receives a letter regarding Mrs. Reed, her wicked aunt. Mrs. Reed is dying and wants to see Jane again.
Why would she want to see Jane again?
What secret does she possess?
When Jane comes back to Thornfield Hall, Mr. Rochester is very happy to see her again. He gives Jane the news that he has decided to marry.
Who will he marry?
Will the wedding actually take place?
Slide 29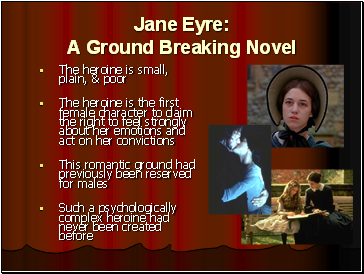 Jane Eyre: A Ground Breaking Novel
The heroine is small, plain, & poor
The heroine is the first female character to claim the right to feel strongly about her emotions and act on her convictions
This romantic ground had previously been reserved for males
Such a psychologically complex heroine had never been created before
Slide 30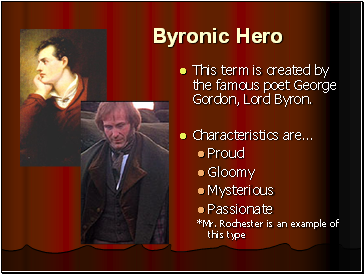 Byronic Hero
This term is created by the famous poet George Gordon, Lord Byron.
Characteristics are…
Proud
Gloomy
Mysterious
Passionate
*Mr. Rochester is an example of this type
Slide 31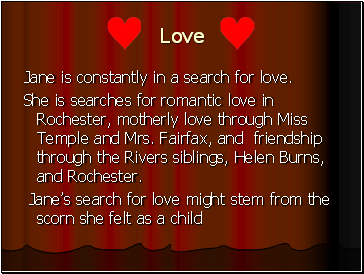 Love
Jane is constantly in a search for love.
She is searches for romantic love in Rochester, motherly love through Miss Temple and Mrs. Fairfax, and friendship through the Rivers siblings, Helen Burns, and Rochester.