Leprechaun
Page
1
Slide 1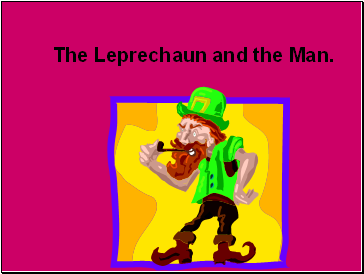 The Leprechaun and the Man.
Slide 2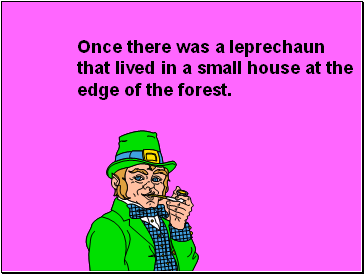 Once there was a leprechaun
that lived in a small house at the
edge of the forest.
Slide 3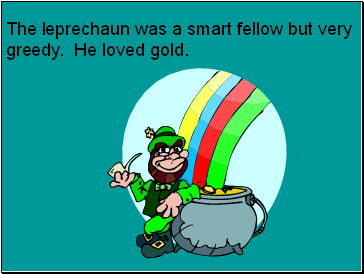 The leprechaun was a smart fellow but very
greedy. He loved gold.
Slide 4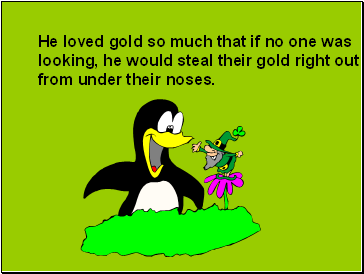 He loved gold so much that if no one was
looking, he would steal their gold right out
from under their noses.
Slide 5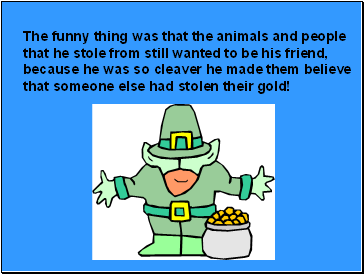 The funny thing was that the animals and people
that he stole from still wanted to be his friend,
because he was so cleaver he made them believe
that someone else had stolen their gold!
Slide 6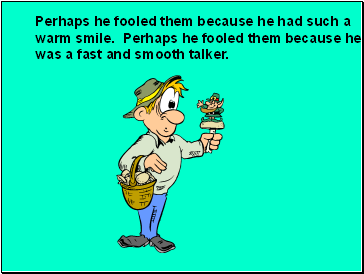 Perhaps he fooled them because he had such a
warm smile. Perhaps he fooled them because he
was a fast and smooth talker.
Slide 7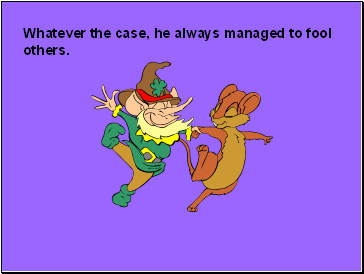 Whatever the case, he always managed to fool
others.
Slide 8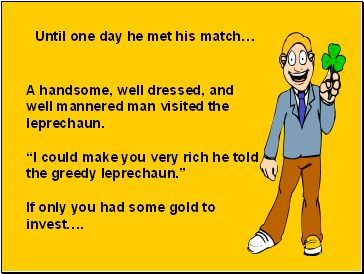 Until one day he met his match…
A handsome, well dressed, and
well mannered man visited the
leprechaun.
"I could make you very rich he told
the greedy leprechaun."
If only you had some gold to
invest….
Slide 9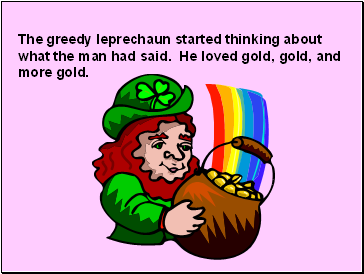 The greedy leprechaun started thinking about
what the man had said. He loved gold, gold, and
more gold.
Slide 10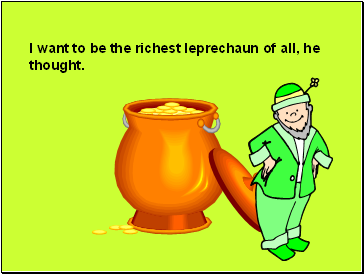 I want to be the richest leprechaun of all, he
thought.
Slide 11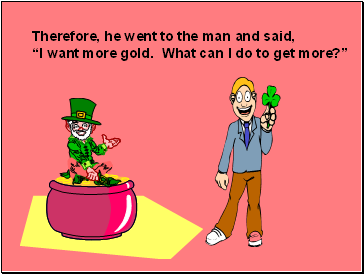 Therefore, he went to the man and said,
"I want more gold. What can I do to get more?"
Slide 12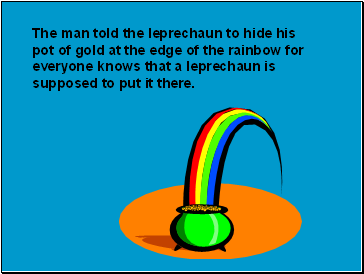 The man told the leprechaun to hide his
pot of gold at the edge of the rainbow for
everyone knows that a leprechaun is
supposed to put it there.
Slide 13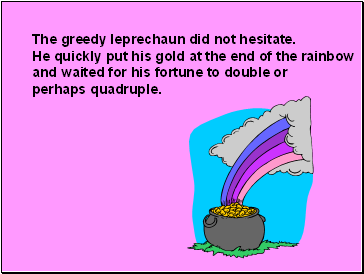 The greedy leprechaun did not hesitate.
He quickly put his gold at the end of the rainbow
and waited for his fortune to double or
perhaps quadruple.
Slide 14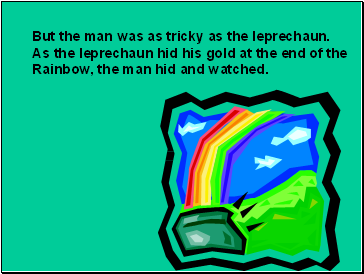 But the man was as tricky as the leprechaun.