Nervous Systems
Page
2
Insect (arthropod)
Segmental
ganglia
Ventral
nerve cord
Brain
Anterior
nerve ring
Longitudinal
nerve cords
Chiton (mollusc)
Ganglia
Slide 10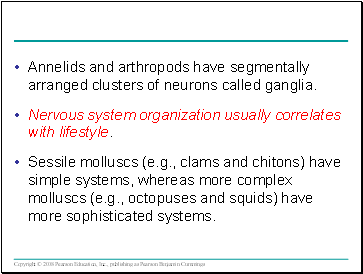 Annelids and arthropods have segmentally arranged clusters of neurons called ganglia.
Nervous system organization usually correlates with lifestyle.
Sessile molluscs (e.g., clams and chitons) have simple systems, whereas more complex molluscs (e.g., octopuses and squids) have more sophisticated systems.
Slide 11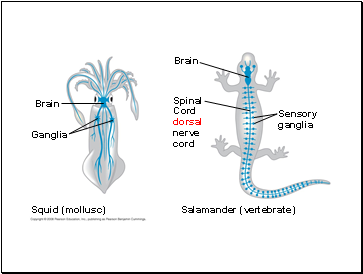 Squid (mollusc)
Ganglia
Brain
Brain
Spinal
Cord
dorsal
nerve
cord
Sensory
ganglia
Salamander (vertebrate)
Slide 12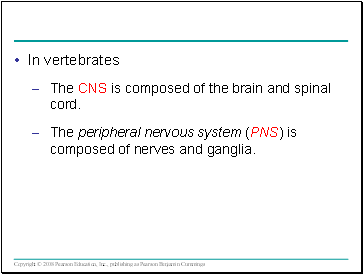 In vertebrates
The CNS is composed of the brain and spinal cord.
The peripheral nervous system (PNS) is composed of nerves and ganglia.
Slide 13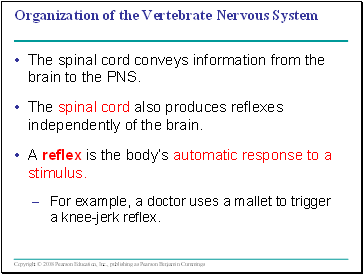 Organization of the Vertebrate Nervous System
The spinal cord conveys information from the brain to the PNS.
The spinal cord also produces reflexes independently of the brain.
A reflex is the body's automatic response to a stimulus.
For example, a doctor uses a mallet to trigger a knee-jerk reflex.
Slide 14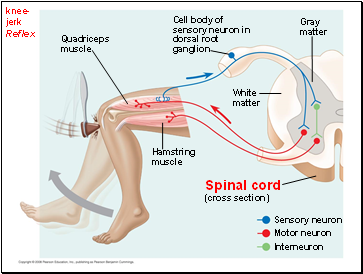 knee-jerk Reflex
White
matter
Cell body of
sensory neuron in
dorsal root
ganglion
Spinal cord
(cross section)
Gray
matter
Hamstring
muscle
Quadriceps
muscle
Sensory neuron
Motor neuron
Interneuron
Slide 15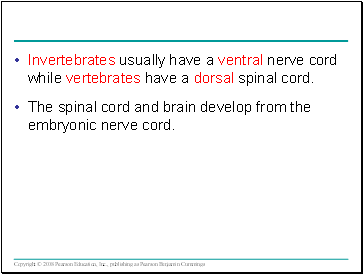 Invertebrates usually have a ventral nerve cord while vertebrates have a dorsal spinal cord.
The spinal cord and brain develop from the embryonic nerve cord.
Slide 16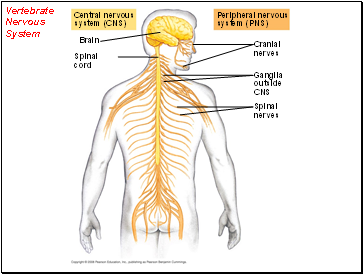 Vertebrate Nervous System
Peripheral nervous
system (PNS)
Cranial
nerves
Brain
Central nervous
system (CNS)
Ganglia
outside
CNS
Spinal
nerves
Spinal cord
Slide 17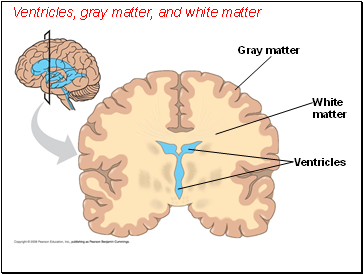 Ventricles, gray matter, and white matter
White
matter
Ventricles
Gray matter
Slide 18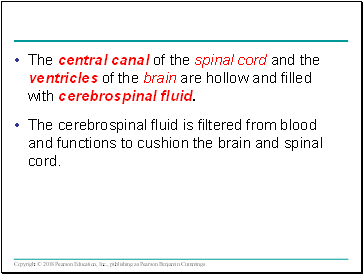 The central canal of the spinal cord and the ventricles of the brain are hollow and filled with cerebrospinal fluid.
The cerebrospinal fluid is filtered from blood and functions to cushion the brain and spinal cord.