Nervous Systems
Page
3
Slide 19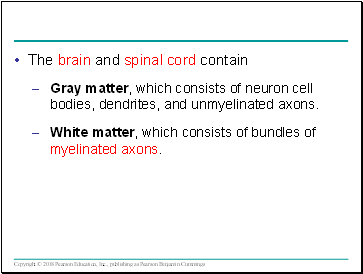 The brain and spinal cord contain
Gray matter, which consists of neuron cell bodies, dendrites, and unmyelinated axons.
White matter, which consists of bundles of myelinated axons.
Slide 20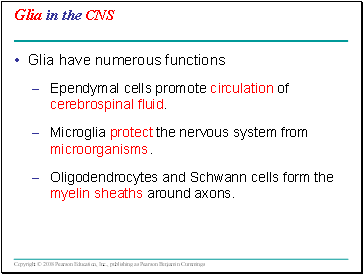 Glia in the CNS
Glia have numerous functions
Ependymal cells promote circulation of cerebrospinal fluid.
Microglia protect the nervous system from microorganisms.
Oligodendrocytes and Schwann cells form the myelin sheaths around axons.
Slide 21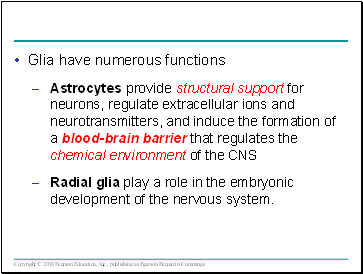 Glia have numerous functions
Astrocytes provide structural support for neurons, regulate extracellular ions and neurotransmitters, and induce the formation of a blood-brain barrier that regulates the chemical environment of the CNS
Radial glia play a role in the embryonic development of the nervous system.
Slide 22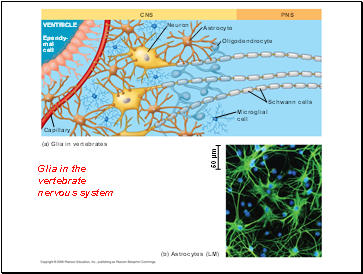 Glia in the vertebrate nervous system
Oligodendrocyte
Microglial
cell
Schwann cells
Ependy-
mal
cell
Neuron
Astrocyte
CNS
PNS
Capillary
(a) Glia in vertebrates
(b) Astrocytes (LM)
VENTRICLE
50 µm
Slide 23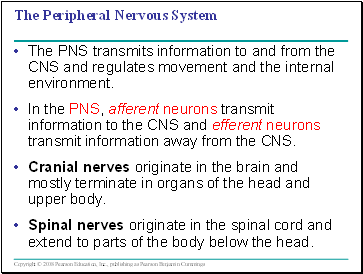 The Peripheral Nervous System
The PNS transmits information to and from the CNS and regulates movement and the internal environment.
In the PNS, afferent neurons transmit information to the CNS and efferent neurons transmit information away from the CNS.
Cranial nerves originate in the brain and mostly terminate in organs of the head and upper body.
Spinal nerves originate in the spinal cord and extend to parts of the body below the head.
Slide 24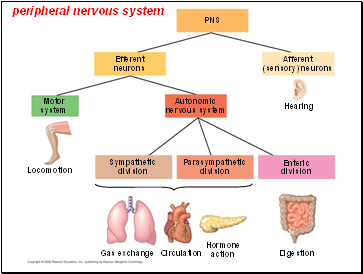 peripheral nervous system
Efferent
neurons
Locomotion
Motor
system
Autonomic
nervous system
Afferent
(sensory) neurons
PNS
Hearing
Circulation
Gas exchange
Digestion
Hormone
action
Enteric
division
Sympathetic
division
Parasympathetic
division
Slide 25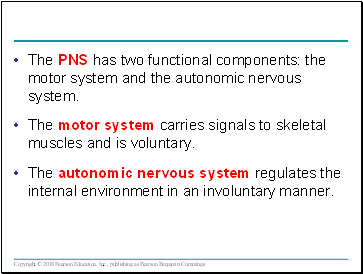 The PNS has two functional components: the motor system and the autonomic nervous system.
The motor system carries signals to skeletal muscles and is voluntary.
The autonomic nervous system regulates the internal environment in an involuntary manner.
Slide 26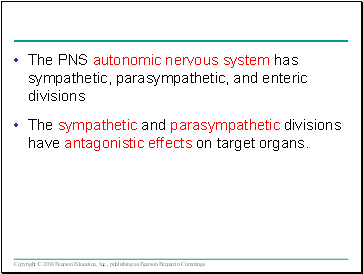 The PNS autonomic nervous system has sympathetic, parasympathetic, and enteric divisions