Nervous Systems
Page
9
block removal
of dopamine.
Reward
system
response
Slide 66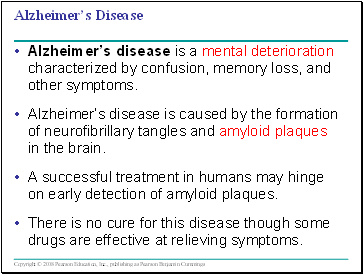 Alzheimer's Disease
Alzheimer's disease is a mental deterioration characterized by confusion, memory loss, and other symptoms.
Alzheimer's disease is caused by the formation of neurofibrillary tangles and amyloid plaques in the brain.
A successful treatment in humans may hinge on early detection of amyloid plaques.
There is no cure for this disease though some drugs are effective at relieving symptoms.
Slide 67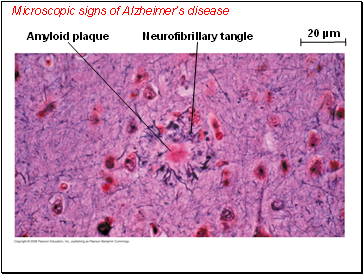 Microscopic signs of Alzheimer's disease
Amyloid plaque
20 µm
Neurofibrillary tangle
Slide 68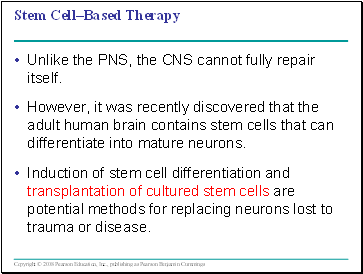 Stem Cell–Based Therapy
Unlike the PNS, the CNS cannot fully repair itself.
However, it was recently discovered that the adult human brain contains stem cells that can differentiate into mature neurons.
Induction of stem cell differentiation and transplantation of cultured stem cells are potential methods for replacing neurons lost to trauma or disease.
Slide 69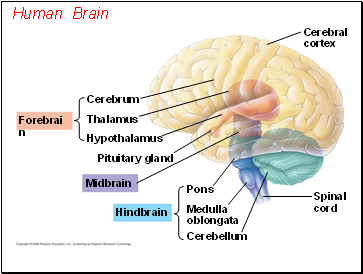 Human Brain
Cerebrum
Thalamus
Hypothalamus
Pituitary gland
Forebrain
Cerebral
cortex
Midbrain
Hindbrain
Pons
Medulla
oblongata
Cerebellum
Spinal
cord
Slide 70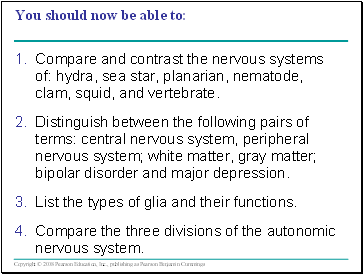 You should now be able to:
Compare and contrast the nervous systems of: hydra, sea star, planarian, nematode, clam, squid, and vertebrate.
Distinguish between the following pairs of terms: central nervous system, peripheral nervous system; white matter, gray matter; bipolar disorder and major depression.
List the types of glia and their functions.
Compare the three divisions of the autonomic nervous system.
Slide 71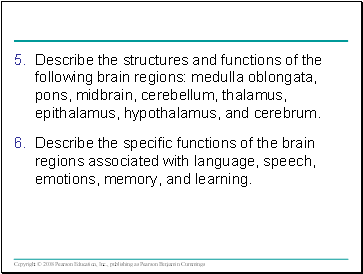 Describe the structures and functions of the following brain regions: medulla oblongata, pons, midbrain, cerebellum, thalamus, epithalamus, hypothalamus, and cerebrum.
Describe the specific functions of the brain regions associated with language, speech, emotions, memory, and learning.
Slide 72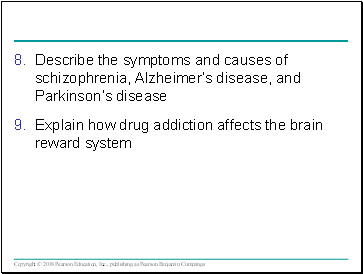 Describe the symptoms and causes of schizophrenia, Alzheimer's disease, and Parkinson's disease
Explain how drug addiction affects the brain reward system