Nervous Systems
Page
7
association
area
Visual
association
area
Reading
Taste
Hearing
Auditory
association
area
Speech
Smell
Motor cortex
Somatosensory cortex
Slide 51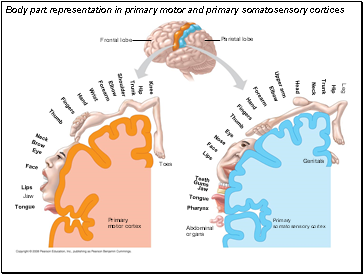 Body part representation in primary motor and primary somatosensory cortices
Primary
somatosensory cortex
Frontal lobe
Pharynx
Parietal lobe
Teeth
Gums
Jaw
Tongue
Lips
Face
Nose
Eye
Thumb
Fingers
Hand
Forearm
Elbow
Upper arm
Head
Neck
Trunk
Hip
Leg
Genitals
Abdominal
organs
Primary
motor cortex
Tongue
Toes
Jaw
Lips
Face
Eye
Brow
Neck
Fingers
Hand
Wrist
Forearm
Elbow
Shoulder
Trunk
Hip
Knee
Thumb
Slide 52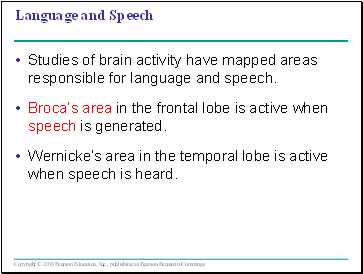 Language and Speech
Studies of brain activity have mapped areas responsible for language and speech.
Broca's area in the frontal lobe is active when speech is generated.
Wernicke's area in the temporal lobe is active when speech is heard.
Slide 53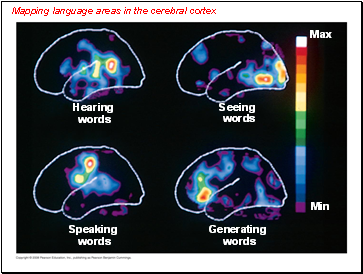 Mapping language areas in the cerebral cortex
Generating
words
Max
Speaking
words
Hearing
words
Seeing
words
Min
Slide 54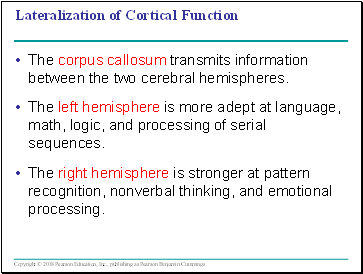 Lateralization of Cortical Function
The corpus callosum transmits information between the two cerebral hemispheres.
The left hemisphere is more adept at language, math, logic, and processing of serial sequences.
The right hemisphere is stronger at pattern recognition, nonverbal thinking, and emotional processing.
Slide 55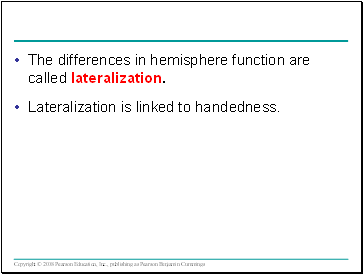 The differences in hemisphere function are called lateralization.
Lateralization is linked to handedness.
Slide 56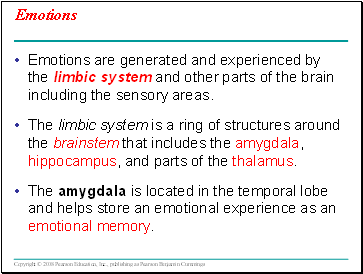 Emotions
Emotions are generated and experienced by the limbic system and other parts of the brain including the sensory areas.
The limbic system is a ring of structures around the brainstem that includes the amygdala, hippocampus, and parts of the thalamus.
The amygdala is located in the temporal lobe and helps store an emotional experience as an emotional memory.
Slide 57
The limbic system
Thalamus
Hypothalamus
Prefrontal
cortex
Olfactory
bulb
Amygdala
Hippocampus
Slide 58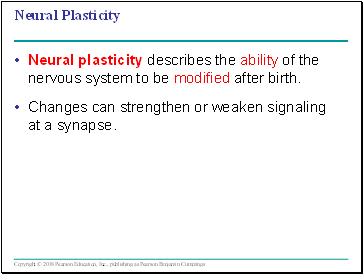 Neural Plasticity