Nervous Systems
Page
6
Slide 42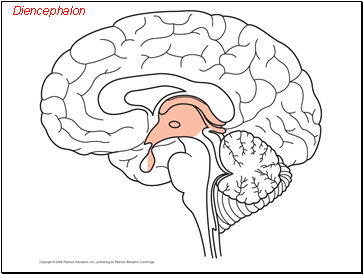 Diencephalon
Slide 43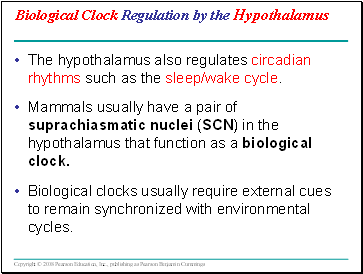 Biological Clock Regulation by the Hypothalamus
The hypothalamus also regulates circadian rhyths such as the sleep/wake cycle.
Mammals usually have a pair of suprachiasmatic nuclei (SCN) in the hypothalamus that function as a biological clock.
Biological clocks usually require external cues to remain synchronized with environmental cycles.
Slide 44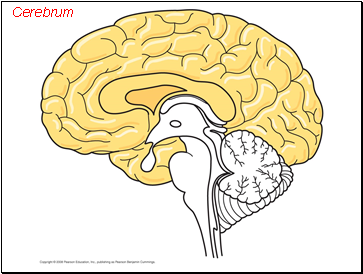 Cerebrum
Slide 45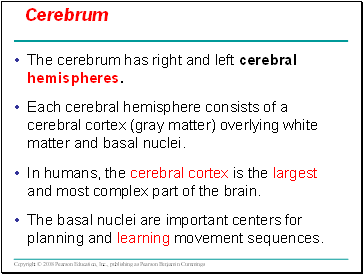 Cerebrum
The cerebrum has right and left cerebral hemispheres.
Each cerebral hemisphere consists of a cerebral cortex (gray matter) overlying white matter and basal nuclei.
In humans, the cerebral cortex is the largest and most complex part of the brain.
The basal nuclei are important centers for planning and learning movement sequences.
Slide 46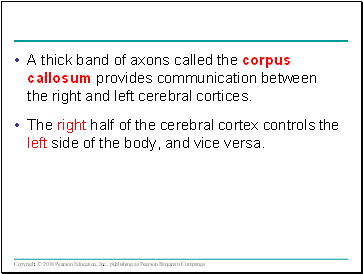 A thick band of axons called the corpus callosum provides communication between the right and left cerebral cortices.
The right half of the cerebral cortex controls the left side of the body, and vice versa.
Slide 47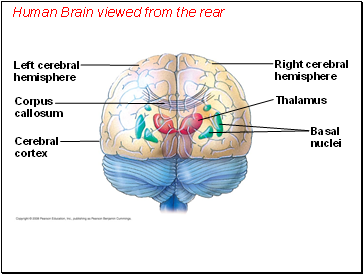 Human Brain viewed from the rear
Corpus
callosum
Thalamus
Left cerebral
hemisphere
Right cerebral
hemisphere
Cerebral
cortex
Basal
nuclei
Slide 48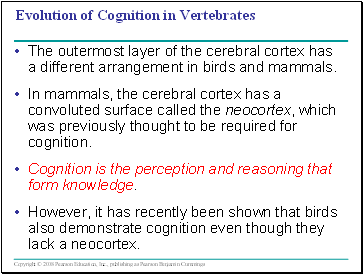 Evolution of Cognition in Vertebrates
The outermost layer of the cerebral cortex has a different arrangement in birds and mammals.
In mammals, the cerebral cortex has a convoluted surface called the neocortex, which was previously thought to be required for cognition.
Cognition is the perception and reasoning that form knowledge.
However, it has recently been shown that birds also demonstrate cognition even though they lack a neocortex.
Slide 49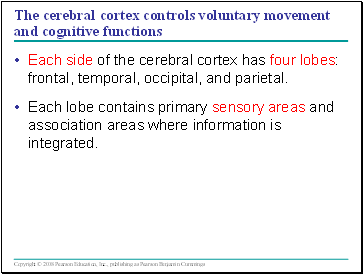 The cerebral cortex controls voluntary movement and cognitive functions
Each side of the cerebral cortex has four lobes: frontal, temporal, occipital, and parietal.
Each lobe contains primary sensory areas and association areas where information is integrated.
Slide 50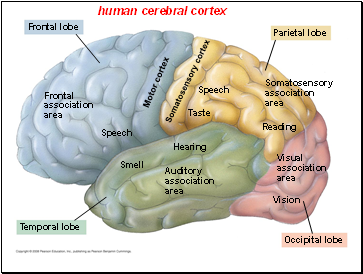 human cerebral cortex
Speech
Occipital lobe
Vision
Temporal lobe
Frontal lobe
Parietal lobe
Somatosensory
association
area
Frontal