Population Ecology
Page
6
(thousands)
Number of hares
(thousands)
160
120
80
40
0
1850
1875
1900
1925
Year
9
6
3
0
Slide 38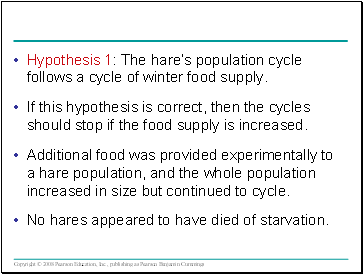 Hypothesis 1: The hare's population cycle follows a cycle of winter food supply.
If this hypothesis is correct, then the cycles should stop if the food supply is increased.
Additional food was provided experimentally to a hare population, and the whole population increased in size but continued to cycle.
No hares appeared to have died of starvation.
Slide 39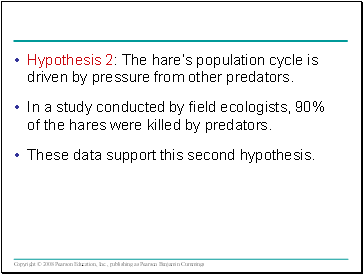 Hypothesis 2: The hare's population cycle is driven by pressure from other predators.
In a study conducted by field ecologists, 90% of the hares were killed by predators.
These data support this second hypothesis.
Slide 40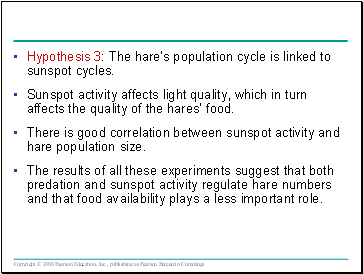 Hypothesis 3: The hare's population cycle is linked to sunspot cycles.
Sunspot activity affects light quality, which in turn affects the quality of the hares' food.
There is good correlation between sunspot activity and hare population size.
The results of all these experiments suggest that both predation and sunspot activity regulate hare numbers and that food availability plays a less important role.
Slide 41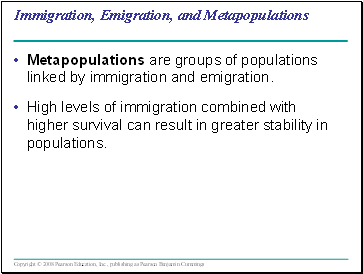 Immigration, Emigration, and Metapopulations
Metapopulations are groups of populations linked by immigration and emigration.
High levels of immigration combined with higher survival can result in greater stability in populations.
Slide 42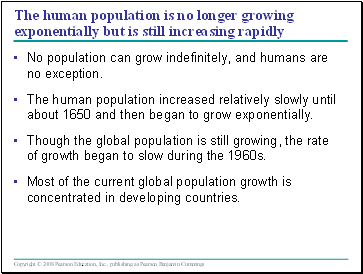 The human population is no longer growing exponentially but is still increasing rapidly
No population can grow indefinitely, and humans are no exception.
The human population increased relatively slowly until about 1650 and then began to grow exponentially.
Though the global population is still growing, the rate of growth began to slow during the 1960s.
Most of the current global population growth is concentrated in developing countries.
Slide 43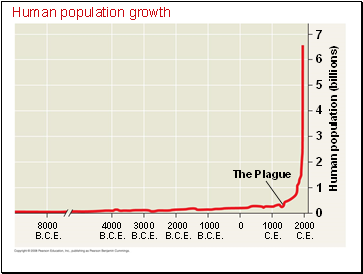 Human population growth
8000
B.C.E.
4000
B.C.E.
3000
B.C.E.
2000
B.C.E.
1000
B.C.E.
0
1000
C.E.
2000
C.E.
0
1
2
3
4
5
6
The Plague
Human population (billions)
7
Slide 44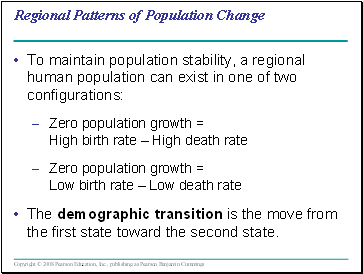 Regional Patterns of Population Change
To maintain population stability, a regional human population can exist in one of two configurations: