Population Ecology
Page
2
Life Tables & Survivorship Curves
A life table is an age-specific summary of the survival pattern of a population.
It is best made by following the fate of a cohort, a group of individuals of the same age.
A survivorship curve is a graphic way of representing the data in a life table.
Slide 9
Survivorship curves for squirrels shows relatively constant death rate
Age (years)
2
0
4
8
6
10
10
1
1,000
100
Number of survivors (log scale)
Males
Females
Slide 10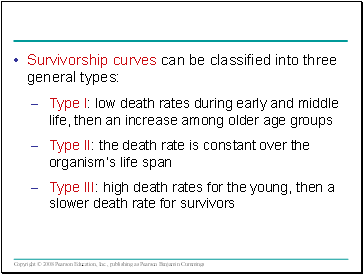 Survivorship curves can be classified into three general types:
Type I: low death rates during early and middle life, then an increase among older age groups
Type II: the death rate is constant over the organism's life span
Type III: high death rates for the young, then a slower death rate for survivors
Slide 11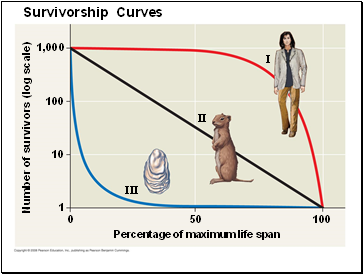 Survivorship Curves
1,000
100
10
1
0
50
100
II
III
Percentage of maximum life span
Number of survivors (log scale)
I
Slide 12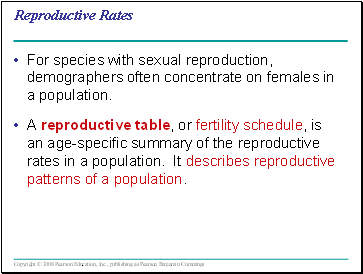 Reproductive Rates
For species with sexual reproduction, demographers often concentrate on females in a population.
A reproductive table, or fertility schedule, is an age-specific summary of the reproductive rates in a population. It describes reproductive patterns of a population.
Slide 13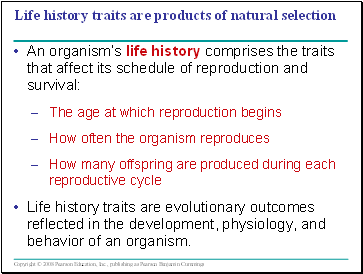 Life history traits are products of natural selection
An organism's life history comprises the traits that affect its schedule of reproduction and survival:
The age at which reproduction begins
How often the organism reproduces
How many offspring are produced during each reproductive cycle
Life history traits are evolutionary outcomes reflected in the development, physiology, and behavior of an organism.
Slide 14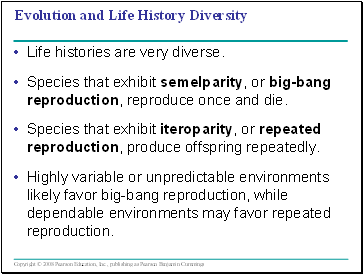 Evolution and Life History Diversity
Life histories are very diverse.
Species that exhibit semelparity, or big-bang reproduction, reproduce once and die.
Species that exhibit iteroparity, or repeated reproduction, produce offspring repeatedly.
Highly variable or unpredictable environments likely favor big-bang reproduction, while dependable environments may favor repeated reproduction.
Slide 15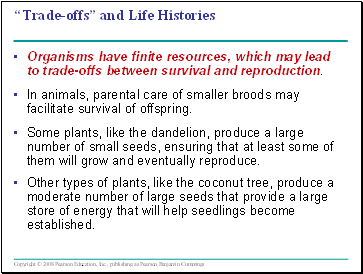 "Trade-offs" and Life Histories
Organisms have finite resources, which may lead to trade-offs between survival and reproduction.